NBC Insider Exclusive
Create a free profile to get unlimited access to exclusive show news, updates, and more!
Sign Up For Free to View
Max's Sweetest Moments With Luna on New Amsterdam
A look back at Max and Luna's best father-daughter moments on the medical drama since Season 1.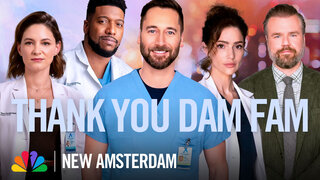 Throughout the five seasons of New Amsterdam, Max Goodwin (Ryan Eggold) literally put his life on the line to be the very best medical director he could be, all in the pursuit of answering one very important question: How can I help?
But the one thing that was more important to him than his career was his daughter, Luna.  Dam Fam members who tuned into the series finale know that Max's dedication to his career rubbed off on his daughter in a big way for decades to come. So in honor of their sweet relationship, let's take a look back at some of their best father/daughter moments since Season 1.
Season 2, Episode 1 ("Your Turn")
Despite the reveal of his wife Georgia Goodwin's death, "Your Turn" still marks an important time for Max and Luna. It's the first episode where we see Max as a father, as he fights through his grief and shock to parent while also being medical director. He even straps a months-old Luna to his chest and takes her to work at New Amsterdam, determined to do it all.
Season 3, Episode 13 ("Fight Time")
Max is forced to fight for Luna when Georgia's parents threaten to take him to court and challenge him for custody. "I'm not a perfect father, and I never will be," he told them. "But I am a good father, and I will be better tomorrow and the day after that, and you know who loved that part of me more than anyone? It was your daughter."
Season 4, Episode 7 ("Harmony")
As Helen becomes a bigger part of their lives leading up to their London move, Max and Luna have an adorable conversation in order to decide what the toddler will call her. Ultimately they decide on "Mum."
Season 5, Episode 5 ("Grabby Hands")
Max is overwhelmed as Luna has approached the age where she wants to touch everything in sight, a.k.a., "grabby hands." She particularly wants to help him make a smoothie. But when she ends up with a minor cut and stitches due to Max's efforts to keep her away, he learns that it's best for him to let her help and be independent.
Season 5, Episode 13 ("How Can I Help?")
During the series finale, a young Luna is upset when her dad is unable to take her to the annual New York City Mermaid Parade. But he patiently explains to her that he and the rest of the doctors were helping a patient in need. He then carries her out of New Amsterdam one last time—at least that's what we thought. In a surprise twist, the show then flashed to the future when a much older Luna is now the medical director of New Amsterdam, and she explains it was her father who inspired her.
"Over the course of the day I saw how hard he worked to save one life," she said. "And how hard everybody worked, together. And that's when I realized that New Amsterdam didn't take my father away from me. This hospital gave me my father. Showed me who he was, who I could be. And that's the day I realized I wanted to be just like him. It's the day I realized I wanted to be a doctor. So I wanted to start by asking all of you the same thing my father asked his staff every hour of every single day: How can I help?" 
You can watch every episode of New Amsterdam now on Peacock.