NBC Insider Exclusive
Create a free profile to get unlimited access to exclusive show news, updates, and more!
Sign Up For Free to View
Did Max and Wilder Break-Up In That Finale? The Show Creator Weighs In
The fate of the new couple's romance wasn't revealed in the show's finale—and that was on purpose.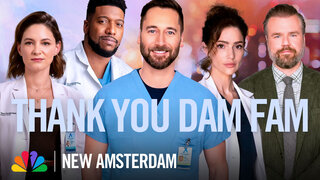 All of our favorite doctors got their happy endings during New Amsterdam's last-ever episode. Max (Ryan Eggold) left for an impressive new gig, and Wilder (Sandra Mae Frank) takes over for him; Bloom (Janet Montgomery) is reunited with her sister; Reynolds (Jocko Sims) has the family he's always wanted; and Iggy (Tyler Labine) gets back together with Martin. Oh, and we can't forget that exciting twist!
But there was still one storyline that kept us hanging: the ever-evolving romance between Max and Wilder. For the majority of the season we've been asking ourselves, "Will they, won't they?" when it comes to their union. And just when we thought we had our answer, the series finale left us with even more questions. Below, we answer everything you to need to know about the duo and their fate.
What happened between Max and Wilder in New Amsterdam's last episode?
Fans were ready to embrace Max and Wilder as endgame when he chose the oncologist over Helen in Season 5, Episode 11. Not to mention in the penultimate series episode, "Right Place," the new couple couldn't keep their hands off each other and conclude they are "perfect for each other" and "have something real." But the series finale leaves the fate of their relationship a little bit unclear.
Before leaving for his new job with WHO in Geneva, Max hands over New Amsterdam's keys to Wilder, with her becoming the hospital's new medical director following his resignation. He then alludes to the fact that he's in love with her in an adorable exchange. 
"It's time to make [Luna] the center of my life," he tells her. "Even if that means leaving behind all of the things I love." 
She then says, "You'll be back. You can't leave this place for good." 
His response? "If I come back, it won't be for this hospital." 
"And what makes you think I'll be waiting for you?" is Wilder's joking response. 
It's an ambiguous ending, to say the least, with no concrete answer on whether or not Max and Wilder are endgame in the New Amsterdam universe.
So, are Max and Wilder still together on New Amsterdam—or did they break-up?
Seeing as the fate of their romance was the biggest cliffhanger of the series finale, we had to ask executive producer Peter Horton and series creator David Schulner: What happened to Max and Wilder?
Horton and Schulner told NBC Insider that they actually know if the couple end up together or not. They even filmed a scene which would answer this burning question, but they're keeping it to themselves indefinitely. 
"That's exactly the question we wanted people to be asking," Horton says. "We'd much rather have you do that than say, 'This is what happened.' We know what we were planning on doing, but it was much better to not tell people. So, we're gonna kind of still not tell people for now."
Schulner added, "We give everyone else [in the cast] such a clear ending. It's always better to leave a door open." 
Why did Max pass his role of medical director to Wilder?
Though we've gotten to know characters like Reynolds (Jocko Sims), Bloom (Janet Montgomery), and Iggy (Tyler Labine) since Season 1, producers felt that it was only right Wilder took over for Max despite being the newest member of the team.
"She's always been like another version of Max," Schulner says. "It's why they fell in love. She's a maverick like him. She's bold, she's daring. She's outspoken, brave, and sometimes reckless. She seemed like the perfect person to carry on Max's mission. And also to add her own point of view, which is so unique."
You can watch every episode of New Amsterdam now on Peacock.