NBC Insider Exclusive
Create a free profile to get unlimited access to exclusive show news, updates, and more!
Sign Up For Free to View
Max Finally Chose Between Helen and Wilder on New Amsterdam
How are you feeling, Dam Fam?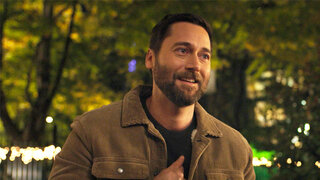 On the heels of a surprising New Amsterdam midseason finale–which marked the return of Helen (Freema Agyeman) at the very end of the episode—showrunner David Schulner told NBC Insider that the Dam Fam would see her once again in Season 5, Episode 11. And we did... briefly.
The episode kicks off with Max (Ryan Eggold) shaken in the wake of seeing Helen on TV six months after their breakup. He explains his reaction to seeing his ex to an extremely understanding Wilder (Sandra Mae Frank), but she tells him very firmly, "I won't be part of someone else's romantic drama." Max seems desperate to make it up to her, but of course that's right when he gets a text from Helen which reads, "Can I see you tonight?"
"Max has to decide what he wants," Schulner told us. "And hope Wilder or Sharpe will still be there when he figures it out."
To distract himself from the message and what it could mean, Max takes the team on a bonding nature hike. But of course it all goes tragically wrong when their rock climbing guide's rope slips free of its hold and she plunges to the ground. The group then has to perform an amputation on her foot to keep her from dying in a rock slide. But not even that drama can keep Max's thoughts of Helen at bay.
"For months after she left, I would have done anything to see her, anything," he tells Bloom (Janet Montgomery). "Just to ask her why. I used to dream of this moment."
Bloom's advice? There would be nothing good for him if he attempted to rekindle things with Helen. "Just keep looking forward, not behind," she tells him. 
After hours, they're thankfully rescued. At the end of the episode, we're back in NYC, and we see Helen waiting for Max in a bar. But instead of going inside to talk with her, unbeknownst to Helen, Max briefly watches her outside through the shop window before walking away. In the next scene, we see him greeting Wilder at her apartment door.
"You told me to make a choice," he says to her before they finally share their first kiss.
Following episodes of build-up and romantic tension, it's confirmed: Max and Wilder are endgame!
New Amsterdam returns to finish out its final season in a two-hour series finale on Tuesday, January 17 at 10/9c on NBC. You can watch every episode now on Peacock.