NBC Insider Exclusive
Create a free profile to get unlimited access to exclusive show news, updates, and more!
Sign Up For Free to View
Max and Wilder Just Got a Lot Closer on New Amsterdam
Their connection is undeniable.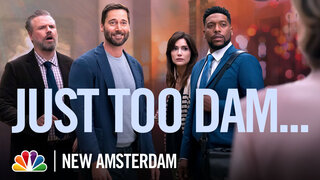 So far in Season 5, New Amsterdam fans have been seeing glimpses of romance blooming between Goodwin (Ryan Eggold) and Wilder (Sandra Mae Frank). Since Helen left Max at the altar, the oncologist has been a constant source of support, and the two even flew all the way to Bermuda together to hunt down a rare blood donor. Max has been learning even more ASL, as well. 
In Season 5, Episode 4 ("Heal Thyself"), their connection was undeniable after experiencing 24 hours of Max's mandated self-care day for all the doctors. He was able to convince an extremely wary Wilder to finally undergo surgery for her carpal tunnel syndrome—which meant she'd go weeks without using her hands to communicate—while she inspired him to get a mass on his neck checked to see if his cancer had returned. 
Max even went the extra mile and created a communication board to help her during her recovery. "I will be your hands. If you want." he signed to Wilder in ASL. And when he told her that the lump was benign, the pair shared an extremely sweet embrace that would make even the most dubious fans swoon. We'd even go so far as to say we swear they almost kissed. 
So, is there a relationship in the future? The minds behind the medical drama are remaining tight-lipped.
"It's really fun to play this relationship with Sandra because she's an amazing actress, and we really have a lot of fun playing these scenes," Eggold told NBC Insider. "When she first met Max, I think there was a real closeness there immediately, and one of the first things she said to him was, 'Don't let her go,' talking about Sharpe."
He continued, "I think they have a real connection, and I've had an absolute blast playing these scenes. Where that goes, I truthfully don't know and I'm excited to see it."
Watch New Amsterdam on NBC Tuesdays at 10/9c and next day on Peacock.