NBC Insider Exclusive
Create a free profile to get unlimited access to exclusive show news, updates, and more!
Sign Up For Free to View
Are Max and Wilder Just Friends on New Amsterdam—Or Is There Something More?
Ryan Eggold opens up to NBC Insider about the characters' chemistry: "I think they have a real connection."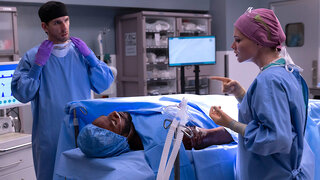 Max Goodwin (Ryan Eggold) may still be recovering from his unexpected breakup with Helen, but is he already moving on?
During New Amsterdam's Season 5, Episode 3 ,titled "Big Day," it's hard to ignore the undeniable chemistry between Max and Elizabeth Wilder (Sandra Mae Frank). The two enthusiastically traveled all the way to Bermuda together in efforts to bring back a rare blood donor to New York City. And when it turned out the recipient of the donation (a grown man) became injured while attempting to marry a literal child bride, Max was there to wipe away Wilder's tears as she offered some much-needed comforting words.
We also have to note Max's touching efforts to learn and speak ASL, and Wilder's constant presence when he was mourning his relationship with Helen. So, with all of this in mind, does this mean they have a strong friendship and working relationship, or is a love story in their future?
When NBC Insider asked Eggold about a potential romance between Max and Wilder, he didn't give too much away.
"It's really fun to play this relationship with Sandra because she's an amazing actress, and we really have a lot of fun playing these scenes," he says. "When she first met Max, I think there was a real closeness there immediately, and one of the first things she said to him was, 'Don't let her go,' talking about Sharpe."
He continued, "I think they have a real connection, and I've had an absolute blast playing these scenes. Where that goes, I truthfully don't know and I'm excited to see it."
Saying we're excited too would be an understatement.
To keep up with the future of Max and Wilder, watch New Amsterdam on NBC Tuesdays at 10/9c and next day on Peacock.