NBC Insider Exclusive
Create a free profile to get unlimited access to exclusive show news, updates, and more!
Sign Up For Free to View
Ryan Eggold Opens Up About Missing Freema Agyeman on the New Amsterdam Set
"She's such a great actor and a great person," the actor told NBC Insider.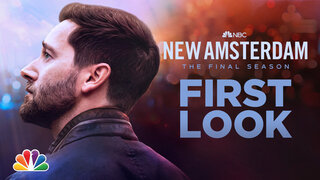 With the premiere of New Amsterdam Season 5 came the heartbreaking realization that Max Goodwin (Ryan Eggold) and Helen Sharpe (Freema Agyeman) are truly over—for now.
After leaving him at the altar to stay in London in the Season 4 finale, Helen gave her former fiancé an emotional letter which attempted to explain her actions. "Everything we have is real, but so is this thing that kept me in London," she wrote. "Kept me from marrying you. I wish I knew what it was. I wish I could rip it out of me, obliterate it, so I could be with you because you deserve all the happiness in the world."
In the end, Iggy, played by Tyler Labine, may have explained her departure the best. "She was dealing with a lot. The truth about her family, who she was, who she wanted to be," he said. "Maybe she wanted to deal with that alone."
Of course, this means that after four seasons, Eggold is no longer working alongside Agyeman. The actress announced in July that she would not be returning to the show.
"While I am saddened, I am also incredibly excited to see how the story concludes as a fan of the series," she said in a statement to TV Line. "It has been such a joy to play Dr. Helen Sharpe for four seasons—those writers built a badass! Beyond grateful for the opportunity to tell some of her stories! Fanfic—it's over to you to tell the rest!! Lots of love Fam!"
Eggold opened up to NBC Insider about no longer working with Agyeman.
"Working with Freema was the best, some of my favorite scenes," he said. "She's such a great actor and a great person, and we would really find little moments and looks and connection in a lot of those scenes and they were some of my favorite moments."
But fear not, Sharpwin fans. He also hinted that Helen could possibly make a return.
"I, as a fan of this show, hope there is some more closure between Max and Helen, and I would love to play that moment again with her, with Freema, who's the greatest of all time," he said. "And I don't know where the story's gonna go, but I'm excited. I can tell you this: I don't think that will be the last of Sharpe, but where it goes remains to be seen."
Watch New Amsterdam on NBC Tuesdays at 10/9c and next day on Peacock.