NBC Insider Exclusive
Create a free profile to get unlimited access to exclusive show news, updates, and more!
Sign Up For Free to View
Ryan Eggold Says He's 'Gonna Just Fall Apart' His Last Day on New Amsterdam Set
The star gets emotional about saying goodbye ahead of the fifth and final season.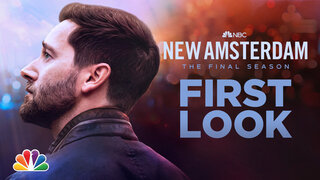 As fans we're already bracing ourselves for all the feels that will come with New Amsterdam's fifth and final season, premiering Tuesday, September 20 at 10/9c on NBC. So we can't even imagine what's going through the minds of the beloved medical drama's cast and crew.
However, series star Ryan Eggold—whose played Dr. Max Goodwin since Season 1—let us in on how he's been feeling while filming the show's final episodes.
"I don't think it'll hit me until a month or three months or a year from now," he told NBC Insider. "I think what I'll appreciate most is just the people. Our crew who works so incredibly hard day in and day out to make this show and tell these stories. And the family that we've become, from making jokes in the morning to sharing coffee to being exhausted one day to falling asleep on one of these [hospital] beds here [on set]."
As Eggold continued, he couldn't help but get emotional. "Everyone has always been there to support each other and keep each other going and keep this show and this family together. And that is very moving to me and to say I'm gonna miss everybody is an understatement," he said, tearing up. "I can't imagine what's gonna happen on the last day. I'm gonna just fall apart. We'll put me on a gurney, wheel me out, give me a big bottle of tequila, and call it a day."
So, what can we expect from Goodwin in Season 5? Well, he first has to deal with the elephant in the room: Sharpe left him at the altar in the Season 4 finale, seemingly putting an end to Sharpwin.
"He's had Georgia, his wife and [his daughter] Luna's mother, and she's gone. And then he had Helen [Sharpe] come in, this incredible, brilliant doctor and amazing person step into that mother role with Luna and now she's gone," he said. "And now Max is a single dad with this little girl to raise. So how does he step up in that role in the absence of Helen I think will be really fun to explore and exciting."
Season 5 of New Amsterdam premieres Tuesday, September 20 at 10/9c on NBC and next day on Peacock.
Watch New Amsterdam on Peacock.