NBC Insider Exclusive
Create a free profile to get unlimited access to exclusive show news, updates, and more!
Sign Up For Free to View
Ryan Eggold Reveals How Sandra Mae Frank Helped Him Learn ASL
"To have a hearing and non-hearing actor communicate is a really interesting experience," he told NBC Insider.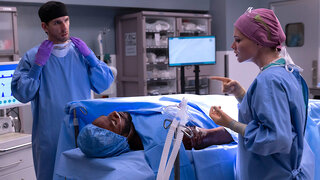 As Max (Ryan Eggold) and Wilder (Sandra Mae Frank) continue to grow closer on New Amsterdam, we see Max making even more of an effort to learn American Sign Language (ASL) for Wilder. But what's it been like for Eggold as an actor to learn the language?
In an interview with NBC Insider, the star revealed that Frank—who is deaf in real life—had a big part in helping him feel comfortable on set during their one-on-one scenes. 
"Sandra's amazing. She's super smart, very empathetic, very kind, very funny, very sarcastic, and we have a great time," he says. "Learning ASL, for me—and I, of course, am by no means fluent—I've learned a very small handful is like learning any new language. Except the difference is this language is much more physical, and it's also a marrying of physicality with your hands and facial expressions to convey meaning or feeling."
He continued, "To have a hearing and non-hearing actor communicate is a really interesting experience I think for both Sandra and I. Sandra teaches me things about deaf culture all the time...there's really a lot to learn."
In February, Frank opened up to the New York Post about the resources available on the New Amsterdam set for her and her co-stars, including her interpreter Chris Matthews.
"I would be lost without him interpreting, not just for me, but for the hearing actors and the crew," she told the publication. "My character, Dr. Wilder, is lip-reading, but I'm not... I have the script and Dr. Wilder also has [her interpreter], Ben."
She added, "We have a DASL (Director of Artistic Sign Language ). Her name is Jackie Roth, and she is a phenomenal deaf woman... who is responsible for making sure the English script is translated into ASL accurately. She works with me and gives me notes on my signing choices and works with me supporting my translation."
Watch New Amsterdam on NBC Tuesdays at 10/9c and next day on Peacock.