NBC Insider Exclusive
Create a free profile to get unlimited access to exclusive show news, updates, and more!
Sign Up For Free to View
A Complete Timeline of Olivia Benson's Romantic Relationships
It's not easy for a talented police captain and single mother to find the right man.
Fans have seen Olivia Benson (Mariska Hargitay) date several men through the years on Law & Order: Special Victims Unit to varying degress of success.  
Benson, after all, is a busy woman: Between helping countless victims as Manhattan's fearless SVU Captain and ensuring NYC's most horrific criminals land behind bars, she doesn't have a ton of time for romance. However, it's never been a secret that Benson is a babe, so she's not in any shortage of interested suitors.
RELATED: All of Mariska Hargitay's Hairstyles Throughout the Years 
Benson has historically preferred to focus on the grind, but that doesn't prevent SVU viewers from soaking up any moment of Benson's romantic pursuits. 
Nowadays, Benson is single, with the future of her relationship status thrust into the air. Look back at Benson's relationship history, a testament to her timeless charm. 
Olivia Benson and Brian Cassidy (Season 1, 14-15)
Benson's love life on SVU kicked off with a nonchalant one-night stand with one of her colleagues at the SVU, Detective Brian Cassidy (Dean Winters). The relationship continued until Cassidy left the precinct. 
RELATED: Who Was In The Original Cast of Law And Order: SVU? 
That might have seemed like the last of Cassidy, but he returned to SVU in Season 14 as Benson's boyfriend. However, their relationship hit a very rocky patch after Cassidy was accused of sexual assault. It was later revealed that he had been framed and he was cleared of all charges.
In Season 15, Cassidy was the main one to support Benson after her traumatizing kidnapping by the serial rapist William Lewis (Pablo Schreiber). She and Cassidy ultimately moved in together, but they broke up amicably after realizing they wanted different things in life, and he retired from the NYPD. 
Olivia Benson and Nick Ganzner (Season 1)
After her fling with Cassidy, Benson briefly dated a reporter, Nick Ganzer (Tom McCarthy) in Season 1. Ganzer was a short-lived fling, and for good reason: He had some sick fantasies and was pretty sadistic behind closed doors, which Benson smartly registered as a flaming red flag.
Even worse: Ganzer snuck through Benson's notes on an active case to add some zest to a story, forcing Benson to pay the price with Cragen (Dann Florek).  
Olivia Benson and Andy Eckerson (Season 5)
In Season 5 of SVU, it was revealed that Benson had once had a relationship with Federal Marshal Andy Eckerson (Craig Bierko). The relationship never got the chance to soar due to Benson's feeling that Eckerson's behavior on the job would land him in a body bag one day.
When they worked on a case in Episode 11 ("Escape"), it was clear Eckerson that used questionable and overly aggressive police tactics, a huge turn-off for the compassionate Benson. He did his best to try to get another shot at love with Benson, but she shrugged him off — another bullet expertly dodged. 
Olivia Benson and Kurt Moss (Season 9)
Halfway through Season 9, fans were delightfully shocked to learn Benson was dating a journalist named Kurt Moss (Bill Pullman). Like her other failed fling with an overtly curious journalist, their connection was short-lived, partially due to the confidential nature of their arrangement.
The pair dated for a few months, but their secret was shattered after Internal Affairs investigated one of Benson's cases. In Episode 16 ("Closet"), Benson was accused of leaking details of a case to the press after her relationship with Moss was discovered. The situation got complicated quickly, and she broke up with Kurt by the end of the same episode that fans had learned they were together. 
Olivia Benson and David Haden (Season 13)
Benson began a relationship with Executive ADA David Haden (Harry Connick Jr.) in Season 13, though most of their attraction occurred between handling intense cases. The pair instantly clicked; they had several common goals and took their budding relationship slow to create something that would last. 
RELATED: Every District Attorney from Law & Order: SVU 
Sadly, the stars didn't align for Benson and Haden: In Episode 17 ("Justice Denied"), one of Benson's solved cases was reopened, sparking a harrowing legal battle and irreparable friction with Haden. The pair called it quits, and Haden eventually resigned from the DA office. 
Olivia Benson and Ed Tucker (Season 17-18)
While many of Benson's previous flings had been kept behind closed doors or were paused before ever taking off, Benson and Internal Affairs Captain Ed Tucker (Robert John Burke) — first introduced in Season 3 and it was he who grilled her about Moss in Season 9 — truly seemed like end-game material. They began dating in Season 17 and quickly settled into a comfortable and secure relationship... until Season 18, when she realized they were on slightly different pages in life. 
RELATED: The Best Law & Order: SVU Episodes Fans Never Forget 
Their relationship began to crumble after Tucker suggested that Benson should retire with him. Predictably, Benson wasn't ready, feeling that staying a cop was integral to her happiness, so they broke up. Benson always had a soft spot for him and was devastated after learning of his death in Season 21. (Many fans agree that Tucker was the best of Benson's boyfriends on SVU.)
Olivia Benson and Elliot Stabler?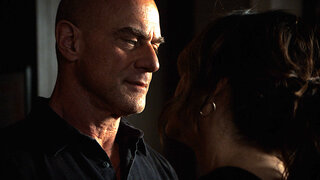 OK, Elliot Stabler (Christopher Meloni) have never dated — yet —  but the longtime SVU partners have sparked decades of debate over whether or not they'll end up together due to their effortless chemistry and steel-tight bond. They've historically remained friends, despite several of their friends and coworkers questioning the hidden attraction they might have.  
RELATED: Did Stabler Just Admit to Being in Love With Benson on Organized Crime? 
Stabler understands Benson on a level that no one else understands and,  fter Kathy Stabler (Isabel Gillies) died and Stabler moved back to NYC (the impetus for Law & Order: Organized Crime), Bensler's hefty baggage and explosive chemistry became ever more apparent. For the first time in decades, Benson and Stabler were both single, and in recent seasons of both shows, we've watched as Stabler alluded to his feelings for Benson, including by giving her a letter in Season 2 of  OC admitting that, in a different universe, they'd be together.  
Benson had a heart-to-heart with Amanda Rollins (Kelli Giddish) about the subject revealing that, while recent circumstances have led her to consider a Bensler future, the threat of ruining their friendship has stopped her in her tracks.  
In Season 24, Episode 12 ("Blood Out") of SVU — seen in the video above — Benson was unable to fully dodge her attraction to Stabler, but pulled away at the last moment before they kissed. 
"Elliot I want to. I want to, but I can't," Benson said, conflicted.  
"Why not?" Stabler asked. 
"Because what if it doesn't work out?" Benson asked. 
"And what if things work out?" Stabler countered.  
"Elliot, I'm not ready for this," Benson admitted. 
In the SVU Season 24 finale, after noticing Benson had kept an unopened gift in her office for months, Stabler subtly hinted at her tendency to avoid disappointment.  
"Whatever is inside this box," Stabler guessed. "You're afraid is too normal." 
"Too normal?" Benson asked. "I didn't know there was such a thing." 
"There is," Stabler said. "And it scares you more than anything you'll ever face in your life." 
In OC's Season 2 finale, Benson allowed Stabler to open the gift, and he discovered kitschy "Live Laugh Love" tree ornament. As Benson laughed at the anticlimactic reveal, Stabler broke off the last "e" in "live," turning it into "Liv Laugh Love" — a nod to his longtime nickname for her. 
It was a sweet moment then amplified when Stabler gave her his own present: A dazzling necklace with a stunning compass pendant.  
"Elliot, this is beautiful," Benson gasped. "Is this supposed to lead me somewhere... or to something?" 
Stabler beamed before saying, "Lead you to happiness, Liv." 
"I sure as hell am gonna try," Benson promised. 
"Me too," Stabler agreed before playfully added, "Partner." 
Originally published Jun 17, 2022.