NBC Insider Exclusive
Create a free profile to get unlimited access to exclusive show news, updates, and more!
Sign Up For Free to View
All of Mariska Hargitay's Hairstyles Throughout the Years
Mariska Hargitay, who has played Olivia Benson on Law & Order: SVU for 24 seasons, has always had the best hair.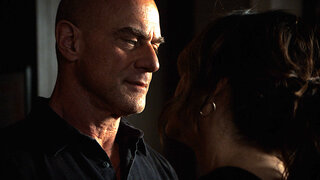 In 24 seasons of starring as Captain Olivia Benson on Law & Order: Special Victim's Unit, Mariska Hargitay's hairstyles have inspired an untold number of women to go into their hair salons with ripped-out magazine pictures or images on their phones, and ask an unsuspecting professional to recreate one of her iconic looks.
We may not know how many, but we know that it's a lot.
Like most of us, Hargitay (and her character, Benson) has opted for a new look here and there as her life and circumstances have changed, and she's clearly worked with great stylists to help her through those inevitable periods when her love of a great short cut gave way to the desire for long locks again. (Cue Shania Twain's "I Feel Like a Woman"...)
Take a look at some of her most memorable styles over the years, below.
Mariska Hargitay's Original Layered Long Bob
In Law & Order: SVU's premiere season in 1999, Hargitay sported one of the popular and flattering late '90s cuts: a medium cut with layers that framed her face. (This particular picture is from 2000.)
Mariska Hargitay's Pixie Cut
In Season 2, however, Hargitay chose more of a boss-lady short cut, lending her character gravitas, and leaned in it on Season 3 with a full-on pixie cut with blonde highlights. (She later said in a 2013 interview that the conversion to a pixie cut was an accidental error!) In the summer of 2001, seen here, she went full platinum blonde with her pixie and looked fabulous.
Mariska Hargitay Growing Out Her Hair
Every woman who has cut her hair short and then grown it out knows that your stylist is your best friend in this period, helping you look your best during that in-between stage. But Hargitay obviously shone all throughout her growing-out stage, as this 2003 picture of her with a strawberry blonde short 'do demonstrates.
Mariska Hargitay Gets Bangs
Who among the long-haired ladies has never decided they needed bangs? Of course Hargitay, who finished growing out her hair and then went with a layers-and-bangs look in 2006, looked fantastic when she did so.
Mariska Hargitay Cuts Her Hair Short Again
But, as anyone who has given into the allure of bangs knows, it's almost harder to look great growing out just your bangs than it is growing out short hair. By 2007, Hargitay had again chopped her hair into a short and glamorous bob, which foreshadowed years of long locks to come.
Mariska Hargitay Gets Extensions (For the Red Carpet)
But even as she spent Seasons 10 and 11 on the show growing her hair back out and looking fabulous, Hargitay clearly wanted something long and elegant at the Emmys in September 2009, and layered amazing extensions into her mid-length and highlighted hair.
She must have loved the look, because she grew her hair out to this length through the end of Season 14.
Mariska Hargitay Chopped Her Hair For Work
But in Season 15, Hargitay's character, Benson, cut her hair after being one of the shows special victim. Hargitay was thereafter spotted looking fabulous in a lob (a long bob, for the uninitiated) in 2014.
Mariska Hargitay's Long Straight Center Part
By Season 17, Hargitay had opted for a long, straight cut with highlights and a center part — four years before Gen Z declared the side part outdated, for the record.
Mariska Hargitay Shoulder-Length Waves
Just a year later, in 2017, Hargitay was rocking both softer highlights and a soft, wavy shoulder-length hairstyle. She'd stay in this zone — a great one for her — for several seasons.
Mariska Hargitay Long Hair
These days, Hargitay is rocking some of the longest hair of her tenure, in a gorgeous honey brown color, with layers to help frame her face. 
Watch Law & Order: SVU on NBC Thursdays at 9/8c and the next day on Peacock.