NBC Insider Exclusive
Create a free profile to get unlimited access to exclusive show news, updates, and more!
Sign Up For Free to View
Look Back at Every District Attorney Who Took on Criminals on Law & Order: SVU
It's never an easy work day for the prosecutors of Law & Order: Special Victims Unit.
Where would the world be without the lawyers of Law & Order: Special Victims Unit? It's a question Captain Olivia Benson (Mariska Hargitay) has thankfully never had to answer because she's luckily had a titan crew of legal experts at her back since SVU's debut.
Current Assistant District Attorney Dominick Carisi (Peter Scanavino) had a fantastic journey from detective to prosecutor and joining the ranks of elite attorneys that have rocked SVU screens. The stakes are always high during these especially heinous cases, leaving the legal experts diminutive room for error. Benson has worked with many exceptional ADAs in the past two decades, with each bringing something unique to the courtroom to help the squad put hundreds of criminals behind bars.
It takes courage to pull off what these ADAs accomplish each day, but the SVU team always delivers. Dive into our list of Law & Order lawyers across all 24 Seasons of SVU, below.
ADA Dominick Carisi Jr. (Peter Scanavino)
Season 16 - present
Introduced in the Season 16 premiere of SVU, Carisi hit the ground running as an SVU Detective after Nick Amaro (Danny Pino) retired. Carisi always expressed a strong passion for the Law half of Law & Order, taking law classes at Fordham University throughout his early SVU tenure and often butting into ADAs' cases to provide his opinion.
Right as Carisi transferred to the D.A.'s office, his relationship with Amanda Rollins (Kelli Giddish) heated up as they found themselves unable to deny their mutual feelings. Nowadays, Carisi is killing it as the SVU's ADA, helping put away dozens of nefarious wrongdoers.
Then, at the end of the day, Carisi heads home to his wife and mother of his future child, Rollins.
ADA Peter Stone (Philip Winchester)
Seasons 19-20
ADA Peter Stone — the son of  late Executive ADA Ben Stone from Law & Order — joined the team in Season 19. We first meet Stone as the special counsel prosecuting a former ADA for murder.
Eventually, Stone became quite close to his colleagues, leaving the 16th Precinct to take care of his mental health in Season 20 of the NBC nail-biter.
ADA Rafael Barba (Raúl Esparza)
Seasons 14-19
Legendary Law & Order lawyer Rafael Barba graced the Manhattan SVU with his powerhouse presence from Seasons 14-19. Barba was by-the-book but calculated, always able to identify loopholes and lapses in suspect testimony. Barba also had a hand in Carisi successfully becoming a lawyer — at one point allowing the SVU detective to shadow a trial. 
Barba quickly became a pillar of the squad's success, putting away dozens of perps throughout his SVU tenure. After 21 years of prosecuting, Barba resigned from the SVU after handling a harrowing right-to-die case and facing murder charges for his role.
Luckily, Barba's goodbye wasn't for long; he has since appeared in several episodes as a defense attorney, at one point even representing Richard Wheatley — the nemesis of Det. Elliot Stabler (Chris Meloni) — on Law & Order: Organized Crime.
District Attorney Jack McCoy (Sam Waterston)
Season 1, Season 9, Season 11, Season 19
Though McCoy is mostly mentioned in passing among the SVU squad members, the Law & Order legend's presence is felt everywhere. McCoy has appeared in four episodes of SVU since the series debut, but the detectives and ADAs know that the line ends with him. McCoy has been known to pull some strings behind closed doors to help Benson and the squad, keeping true to McCoy's never-ending quest to see justice served. 
Executive ADA David Haden (Harry Connick, Jr.)
Season 13
EADA David Haden joined SVU for a captivating four-episode arc in Season 13. Haden was sent by the DA's office to work a case with Benson after a powerful military contracting CEO was assaulted, unveiling a massive conspiracy overseas. Haden had a brief romantic relationship with Benson during this madness, making him one of the honored few to catch the leading lady's eye. The pair ended their relationship after it complicated their jobs, and Haden later resigned.
ADA Alexandra Cabot (Stephanie March)
Season 2-5, Seasons 10-11, Season 13
The lawyer with the honor of being the squad's first long-term ADA is the amazing Alexandra Cabot, who served as the squad's go-to ADA from Seasons 2-5 of SVU. Cabot was tenacious and fearless but, after she was almost assassinated by a drug cartel, she was forced to go into Witness Protection and leave her SVU colleagues.
Luckily, Cabot returned in Season 10 as the squad's temporary ADA until her second departure in Season 11, when Cabot chose to go represent survivors in the Congo. She, however is the cat with nine lives, because in Season 13 she returned for a third time alongside another familiar SVU face.
ADA Casey Novak (Diane Neal)
Seasons 5-9, Season 13
When fans think of early SVU, ADA Novak is often one of the first lawyers to come to mind. Every Law & Order lawyer is different, and Novak brought a magnetic charisma to the courtroom that instantly made her a fan favorite. From Novak's banter with Benson and Stabler to her verbal judo while prosecuting, Novak was exceptional at getting her way and closing difficult-to-crack cases.
Novak left in Season 9 after getting censured for violating due process, but luckily returned alongside Cabot in Season 13 to team up with the SVU. 
Bureau Chief ADA Michael Cutter (Linus Roache)
Season 13
In the season featuring powerhouse duo Cabot and Novak, the two attorneys were temporarily supervised by Bureau Chief ADA Michael Cutter, another recruit from flagship Law & Order. (He originally appeared in Seasons 18-20 of the original series.) Cutter's appearance was brief but impactful as he frequently provided important intel to the squad. 
ADA Sherri West (Francie Swift)
Season 12
ADA West's time on SVU was short but sweet: She served as a temporary ADA at the beginning of Season 12, where the empathetic and kindhearted prosecutor assisted in four high-stakes cases. West was one of the witnesses of the fatal shoot-out that led to Stabler's departure from the SVU.
While West left the 16th Precinct after Season 12, viewers learned she became a defense attorney after West appeared in one episode of Season 13. 
ADA Gillian Hardwicke (Melissa Sagemiller)
Season 12
"Gill" Hardwicke was the squad's primary ADA throughout Season 12, lending her services to the 16th Precinct after hearing great rumors about Benson and Stabler's police work. Known for her 92% conviction rate and faultless courtroom agility, Hardwicke never took it easy on the detectives, always considering cases from all angles before heading into trial.
Executive ADA Sonya Paxton (Christine Lahti)
Season 11-12
While every ADA on SVU has the legal tools to hold their own in the courtroom, getting along with the squad doesn't always come as easily. Paxton, the lead lawyer of Law & Order: SVU in Seasons 11-12, was introduced as a by-the-book lawyer tasked with cleaning up the "he-said, she-said unit." Paxton didn't make the best first impression on the detectives, particularly Stabler, who struggled to keep his opinions about the polarizing ADA to himself.
Paxton had a drinking problem, which led her to be temporarily sidelined until her return in Season 12. While attending an AA meeting, Paxton was tragically murdered in the midst of attempting to make amends for her past wrongs.
ADA Jo Marlowe (Sharon Stone)
Season 11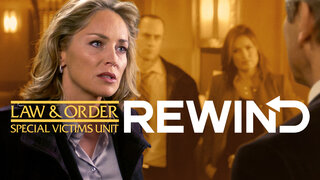 Jo Marlowe was there to lighten the load and pick up the pieces after Cabot left for the Congo. Marlowe may have only appeared in four episodes, but Stone's performance as the Law & Order lawyer was legendary.
Marlowe was a fast and loose ADA that also happened to be Stabler's former police partner before she became a lawyer and assistant in several nail-biting SVU cases. 
ADA Kim Greylek (Michaela McManus)
Season 10
After Novak was suddenly sidelined in Season 9 of SVU, the dogged Kim Greylek became her replacement. The squad met Greylek after she was transferred from the U.S. Department of Justice's Office on Violence Against Women, where she had an established reputation as "The Crusader." Greylek was persistent but very political, often valuing social optics higher than helping victims.
Greylek left the SVU after the Justice Department called Greylek back to Washington in the middle of a scandalous case. 
Bureau Chief ADA Elizabeth Donnelly (Judith Light)
Season 3-6
Elizabeth Donnelly was the SVU's Bureau Chief Assistant District Attorney for three action-packed seasons. Cabot worked closely with Donnelly during her SVU tenure until Donnelly was promoted to judgeship in Season 7 of SVU, due to her strong moral compass.
In Season 10 of SVU, however, Donnelly took a small break as a judge to help the squad with a decades-long cold case that she had previously worked on. Years prior, Donnelly accidentally helped a suspect escape, leading many of her colleagues to refer to legal snafus as "doing a Donnelly." Donnelly made amends for her past mistakes and continued as a judge after making sure justice was properly served.
Executive ADA Stan Villani (Ron Leibman)
Season 3
Villani was a short-lived SVU character but an effective force within the squad and courtroom. Villani worked with Cabot on four cases throughout Season 3 of SVU, assigned to oversee the squad's cases and co-chair with Cabot. 
ADA Abbie Carmichael (Angie Harmon)
Season 1
Speaking of flagship Law & Order stars, fans got to enjoy Angie Harmon's ADA Abbie Carmichael in the courtroom during the first season of SVU. Carmichael appeared in Seasons 9-11 of the original Law & Order, then prosecuted six cases for the SVU throughout Season 1. Carmichael was conservative and calculated — and she enjoyed laying down the law.