NBC Insider Exclusive
Create a free profile to get unlimited access to exclusive show news, updates, and more!
Sign Up For Free to View
How Long Has Ice T Been on Law & Order: Special Victims Unit?
How Ice T turned a four-episode appearance on Law & Order: Special Victims Unit into the longest running job for a male actor on television.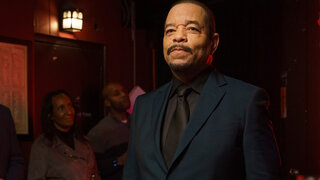 Celebrated actor and rapper Ice T is an integral part of Law & Order: Special Victims Unit, serving as Sergeant Odafin "Fin" Tutuola for over two decades. With SVU's rich history and long-running place on the NBC schedule, let's explore the origins of Ice T's character, how he got his start on the drama (only to become the longest-running male actor in a TV series), and his numerous career highlights across TV, film, and, of course, music. 
How long has Ice T Been on Law & Order: Special Victims Unit? 
Ice T has been on the show for 23 seasons: He joined Law & Order: SVU in 2000—Season 2 of what has since become the longest running show on television. His character, Fin, was first introduced to SVU audiences in Season 2 Episode 1 "Wrong Is Right" (then as a detective).    
No changes to the cast were announced when the series was renewed for Season 25 in June.
Ice T's Law & Order: SVU Origins
Ice T said during his 2022 Hollywood Walk of Fame ceremony that, when he was cast 23 years ago, his role as Fin was only supposed to be temporary: He had just four appearances scheduled. "Four episodes turned into 24 years," he said. 
He was made a series regular because of his chemistry with the other cast members: His pairing with the late Richard Belzer's Detective John Munch, for instance, was the beginning of a beautiful and iconic television relationship.
Ice T has since appeared in more than 500 episodes. In November 2022, he became the longest-running male actor in a TV series. (His co-star, Mariska Hargitay, who plays Olivia Benson, is the longest-running female actor.) 
"You've gotta be on the show that stays on the longest," he told ET. "There are people that have acted way longer than me, but to be on one show continuously for that long, it has never been done."
He's also portrayed his character on the original Law & Order (2005), on two episodes of Law & Order: Organized Crime (2021 and 2023), on two episodes of 30 Rock, on three episodes of Chicago P.D., and in a 2019 episode of Saturday Night Live.
Ice T's Best Law & Order: SVU Episodes
Though Fin is often loath to talk about his personal life on the job, the episodes where the two intersect — and there have been many — are among the best of the series. 
Here are some of the best episodes, which are all streaming on Peacock. 
Season 2, Episode 18 ("Manhunt")
In this early episode, Fin and his relatively new partner, Munch, were dispatched to upstate New York to track down a serial kidnapper and rapist who was trying to escape to Canada. The episode is notable for the broader exploration of the Munch-Fin dynamic, which was a key part of the show for seven seasons.
Season 6, Episode 10 ("Haunted")
In Season 6, viewers learned more about Fin's personal life — including the existence of his estranged son, Ken Randall (Ernest Waddell), with whom he was reunited after being shot during a bodega robbery in which he killed the two teenage perpetrators.
The two remained in touch and, in Season 7, Episode 5 ("Strain"), Fin found out that Ken was gay. (Ken eventually got engaged in Season 13, though his fiancé was beaten during a hate crime the squad investigates. He and his husband later made Fin a grandfather.)
Season 7, Episode 18 ("Venom")
Fin's personal life got much more complicated the following season, when Ken called Benson after he was arrested. It was revealed that Ken was beaten by two patrol officers (who get investigated) but that he'd been searching for the bodies of a woman and child whom he'd supposedly overheard a man at a bar confess to having murdered. Ken was considered a suspect in the case but ultimately cleared by DNA evidence... which instead revealed that his half-brother, Darius Parker (Ludacris) — the son of Fin's ex-wife, Teresa Randall (LisaGay Hamilton) and a then-unknown father — is the murderer.
Darius promised to expose all of the SVU squad's secrets at trial after his arrest, as well as expose Teresa for claiming to have been his aunt and not his mother for most of his childhood.
Season 8, Episode 22 ("Screwed")
Darius did, in fact, go to trial in Season 8, ultimately only facing murder charges for the death of his female victim after his confession was thrown out by a judge. He exposed a number of times the members of the unit had covered up for family members, and called Teresa to the stand to interrogate her about being an abusive parent. She ultimately testified that she was raped by her own father, and became pregnant by Darius as a result, but her mother didn't believe the story.
Darius was ultimately acquitted of the murder, but was disowned by both Fin and Ken in the closing scene.
Season 21, Episode 20 ("Things We Have to Lose")
Fin's instincts to protect children led him into a dangerous situation in Season 21, when he bonded with young Andre Fuller (Ja'Siah Young), who called 911 after witnessing his father beat and rape his mother in Episode 5 ("At Midnight in Manhattan"). Andre's mother did press charges, but his father was released on parole at the beginning of Episode 20.
The father immediately began to violate parole by attempting to contact his estranged family despite a restraining order, and Fin tried to warn the man off instead of reporting the harassment at the family's request. Ultimately, Fin ended up in a armed stand-off with the parolee and shot him in front of his own son.
The family sued the city, which ended up settling in Season 22, Episode 2 ("The Ballad of Dwight and Irena").
How long has Ice T Been in the entertainment business?
Before stepping into acting, Ice T had enjoyed a long career as a trailblazing rapper — he is widely credited for popularizing the then-controversial genre of gangsta rap in the 1980's — and heavy metal rocker with his band Body Count. Some of his most famous hits include the metal song "Cop Killer" (with Body Count) and the rap song "99 Problems," the hook of which was re-used by Jay-Z in 2003.
Ice T, whose given name is Tracy Morrow, also appeared in several movies prior to his time on SVU, including the now-classic New Jack City with Chris Rock, Wesley Snipes, and Judd Nelson (1991) and Ricochet (1991) with Denzel Washington and John Lithgow.
Prior to being cast on SVU, he appeared on four episodes of series creator Dick Wolf's New York Undercover starting in 1995 and starred in Wolf's one-season show Players starting in 1997. At Ice T's Hollywood Walk Of Fame ceremony, Wolf said, "Ice has been the gold standard for the past 28 years."
He and his wife, Coco Austin, had a three-season reality show on E! called Ice Loves Coco from 2011 until 2013.
When did Ice T Receive A Hollywood star?
When, Ice T was honored with his star on the Hollywood Walk of Fame on February 17, 202, his SVU co-star Hargitay spoke and called him the "O.G. of Friendship," while Law & Order creator Wolf dubbed Ice T "the coolest guy" he's ever met.
In 2023, he was among the music legends who performed at the Grammys to celebrate the 50th anniversary of hip-hop. He was joined by Queen Latifah, LL Cool J, Run D.M.C, Missy Elliot, and others.
Ice T nearly skipped out on the opportunity, but said that Questlove—who produced the tribute along with his band The Roots, the official band for The Tonight Show Starring Jimmy Fallon—convinced him to appear.
"I get a call from Questlove and he says, 'We're doing a thing in L.A. this weekend. I say, 'I can't make it,'" he told PEOPLE during a red carpet interview at the event. "He says, 'The Grammys.' And I go, 'Eh.' And he goes, 'You don't wanna be sitting home Ice, watching it—all your homies—and saying I was invited but I didn't go. And I got my Black ass on the plane. He put it in perspective."
He added: "The Grammys didn't even respect hip-hop for so long. And now to be here and to be honored like this, we'll take it."
The performer, however, does have two Grammys: He won Best Rap Performance by a Duo or Group for his part in the 1989 collaboration "Back on the Block" and  Best Metal Performance for the 2000 Body Count song "Bum Rush."
This story was originally published on March 12, 2023. It was updated June 27, 2023.