NBC Insider Exclusive
Create a free profile to get unlimited access to exclusive show news, updates, and more!
Sign Up For Free to View
Ice T's Hollywood Walk of Fame Ceremony Featured a Moving Speech From Mariska Hargitay
During the touching event, Hargitay called the SVU actor the "O.G. of Friendship." Awww!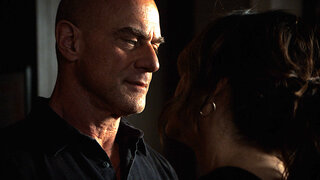 Law & Order: Special Victims Unit would be amiss without the living legend that is Ice T as Sgt. Odafin "Fin" Tutuola. Similarly, the world would suffer a major loss without Ice T's music, which is why the SVU fan favorite has been awarded a star on the Hollywood Walk of Fame. 
Ice T was honored for his illustrious music career as one of the definitive icons of rap and hip-hop. The "O.G. Original Gangster" Artist redefined the West Coast rap scene in the late '80s, and he has never stopped making music that pushes the envelope. Both within his rap career and his metal band Body Count, Ice T continues to evolve as one of the industry's most dedicated performers—while also starring in one of NBC's most beloved series.
Recently performing in the 2023 Grammys Hip Hop Tribute, Ice T proves he always has skin in the game. As one of Hollywood's remaining renaissance men, no one deserves the honor more than him.
Ice T Hollywood Walk of Fame ceremony highlights
Ice T's SVU co-star Mariska Hargitay was happy to speak at the event on February 17. Hargitay's speech was packed with emotion and humor, the perfect tribute for a performer like Ice T. Law & Order's creator Dick Wolf also spoke at the event, calling Ice T "the coolest guy" he's ever met. 
"I am just so beyond, beyond, beyond, thrilled to be here for my friend. The Hollywood Walk of Fame means so many things to so many people. It's a place to visit, it's a place to celebrate, a place to remember, and of course, a place to take millions and millions and millions of selfies. But I hold the Hollywood Walk of Fame so deeply and dearly in my heart for another reason. Because here I am and, forever will be, right next to my mother. Our stars shine side-by-side, and that makes this place unspeakably sacred to me," Hargitay said, speaking of the late Jayne Mansfield.
Hargitay then invited Ice T to stand next to her to share her tribute more directly. "I want to tell you that it is so profoundly right that your name is now here, forever commemorated in this place. Because there is something else that I hold sacred, and that is friendship. Your achievements and your artistry and your whole verbal judo, your whole story, runs so deep," Hargitay said. "It runs deep particularly here in L.A. and it runs deep around the world. You're a rapper and an actor and an Artist, and at a time when people overuse words without thinking and wearing out the meanings, you are indeed the real O.G."
"You have lived a story that has shaped how you look at the world. A story that would have hardened many people beyond recognition, but instead, it filled you with humanity, with humility, with grace, and with oh so much wisdom," Hargitay continued. "You are a devoted husband and a proud, proud, proud father, and you are taking your place here for all those reasons and for so many more. But to me, Ice, the reason that you're here and the reason that you have fame in my heart is because you are the O.G. of Friendship."
"You tell the truth, you keep it real, you usually introduce it with, 'So, here's what's up!' You laugh with me every day, we laugh so hard at things that we shouldn't laugh at. You grieve with me during times of sorrow, and you keep things, you keep everything, in perspective. You break it down, and you have been by my side working, learning, living, growing," Hargitay later added. "And you've never failed me once and you're so deeply gracious and so profoundly grateful. And as Dick said, in 22 1/2 years, I have never, ever, ever heard Ice complain."
"But most importantly, the reason I love you is because you let me call you nicknames that no one else is allowed to call him," she said.
At this point, Hargitay checked with her SVU co-star to see if she could reveal the secret codename to the crowd. With Ice T's approval, Hargitay joyfully reveals she calls him "Icey." Hargitay then ended her speech by welcoming Ice T to the Walk of Fame with herself and Mansfield.
We love ya, Ice T!
Watch Law & Order: Special Victims Unit Thursdays at 9/8c on NBC and the next day on Peacock.