NBC Insider Exclusive
Create a free profile to get unlimited access to exclusive show news, updates, and more!
Sign Up For Free to View
Inside the Incredible Career of Jayne Mansfield, Mariska Hargitay's Mother
Looking back at two amazing acting careers, it's evident talent runs in the family.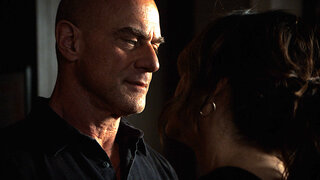 With 24 seasons on the air, it's no secret that Law & Order: Special Victims Unit's leading lady, Mariska Hargitay, has charmed audiences far and wide as Captain Olivia Benson. Hargitay may have inherited her timeless talent from her legendary mother, Jayne Mansfield. 
While Hargitay's talent is a no-brainer for SVU audiences, some fans may be surprised to learn that showbiz genes run in her family. Hargitay's mother, the late actress and supermodel Mansfield, was an accomplished actress and performer, just like her daughter would be decades later.  
Mansfield had an amazing career decades before her daughter also achieved stardom. Let's look back at the powerhouse woman who gave birth to another powerhouse woman.  
Who was Mariska Hargitay's mom, Jayne Mansfield? 
Mansfield was a force to be reckoned with in '50s and '60s Hollywood, and was was one of the first "bombshells" of the time. Mansfield began as a stage actress but moved to L.A. from Texas to pursue her dream of becoming a movie star.
RELATED: Mariska Hargitay Remembers Her Late Mother With a Moving Birthday Post 
In an era when blonde bombshells were rolling up to Hollywood left and right, Mansfield took steps to stand out from the crowd and develop a personal brand. Like the Legally Blonde's Elle Woods, Mansfield embraced all things pink: She donned a pink wardrobe, chose a pink vehicle, and lived in a home dubbed the "pink palace" — a house decorated entirely Mansfield's trademarked shade complete with a heart-shaped swimming pool. 
Jayne Mansfield: The blonde bombshell of Will Success Spoil Rock Hunter?  
Though initially cast aside in Hollywood as "too sexy," Mansfield embraced her sex symbol status, posing for Playboy throughout the 1950s — starting in 1954, when it was a brand-new new magazine, Harper's Bazaar reported.
She parlayed that into a contract with Warner Brothers in 1955, and subsequently landed small parts in three notable studio projects: Pete Kelly's Blues, Hell on Frisco Bay, and Illegal.  
Mansfield cemented this branding even further by landing a role in the 1955 Broadway comedy Will Success Spoil Rock Hunter? Though taking the role meant losing her studio contract, Mansfield shined as sultry superstar Rita Marlowe. Returning to Hollywood after her run, she was offered a contract with 20th Century Fox. They cast her in her star-making 1956 role, The Girl Can't Help It — which netted her a Golden Globe. In 1957, she not only reprised the role  of Rita Marlowe for the iconic film adaptation of the Broadway show, she also starred in Kiss Them For Me, The Wayward Bus, and The Burglar.
RELATED: Look Back at Mariska Hargitay's Acting Credits Besides Law & Order: SVU
She subsequently appeared in The Sheriff of Fractured Jaw (1958), It Takes a Thief (1960), The Loves of Hercules (Gli amori di Ercole) (1960), It Happened in Athens (1962), and the infamously censored Too Hot to Handle (1961) before her contract with Fox expired in 1962.  
She subsequently appeared in Promises! Promises! (1963) — for which she made headlines by going fully nude — the Italian film Panic Button (1964), a handful of German films, Primitive Love (L'amore primitivo) (1964), The Fat Spy (1966), The Las Vegas Hillbillys (1966), and Single Room Furnished (1966). 
Mansfield also returned to her stage roots, starring in the stage version of Gentlemen Prefer Blondes and Bus Stop (both roles Marilyn Monroe had played in films). She even developed and performed her own nightclub act, starring in shows around the country.  
Mansfield alluded to the secret to her success. "I don't really think I am the most beautiful woman in the world at all," Mansfield said,  according to  A&E. "If I can create some illusion to that effect, and it seems I have, then that is what spells success to me." 
How did Mariska Hargitay's mom Jayne Mansfield meet her dad Mickey Hargitay?
One of Mansfield's most life-changing co-stars was Mickey Hargitay, the 1955 Mr. Universe who ultimately also became a Hollywood actor. Mansfield met her future husband in 1956, when Hargitay was performing in The Mae West Show as one of West's musclemen, according to the New York Times.  
The two were quickly smitten, and Mansfield even helped Mickey land a role in the film version of Will Success Spoil Rock Hunter? It was one of several projects they worked on together.
RELATED: Who Is Mariska Hargitay's Father, Mickey Hargitay? 
In 1958, the pair married, and they eventually had three children together: Miklós, Zoltán, and Mariska. In 1964, shortly after Mariska's birth, the couple legally divorced.  
Jayne Mansfield's Death and Mariska Hargitay's Scar 
In 1967, Mansfield's life and career were cut short after she was in a tragic car accident in Louisiana on the way from performing her nightclub act to an interview in another city. Her three children with Hargitay — Miklós, Zoltán, and Mariska — were asleep in the backseat of the car but survived the crash which killed their mother, her lawyer-boyfriend, and their driver. Mansfield was only 34 years old.
The devastating incident eventually led to a change in U.S. policy that now requires all tractor-trailers to be fitted with a steel bar in the back to prevent cars from sliding beneath them, the way Mansfield's vehicle had. The bars are colloquially known as "Mansfield Bars" in honor of the taken-too-soon starlet. 
RELATED: 10 Things You May Not Know About Mariska Hargitay
A 2009 interview with The Ladies Home Journal revealed that Hargitay has a small facial scar from the harrowing ordeal.
In a 2009 interview with Redbook, Hargitay said, "Losing my mother at such an early age is the scar of my soul. But I feel like it ultimately made me into the person I am today. I understand the journey of life. I had to go through what I did to be here." 
Hargitay has since dedicated efforts to moving forward, proudly leading a life that has "been a journey in healing" she explained in a 2021 interview with Glamour. "I learned about crisis very young, and I learned very young that shit happens and there's no guarantees, and we keep going. And then we transform it," Hargitay shared. "That's been kind of my superpower and the gift of having trauma early in life." 
Mariska Hargitay honors Jayne Mansfield 
Mansfield's legacy lives on in Hollywood history — and in her daughter's heart. Hargitay, now a cherished actress and television icon herself, has always been keen to reflect on her mother's many achievements.  
"My mother was this amazing, beautiful, glamorous sex symbol — but people didn't know that she played the violin, and had a 160 IQ, and had five kids and loved dogs. She was just so ahead of her time," Hargitay told Closer Weekly in 2018. "She was an inspiration. She had this appetite for life, and I think I share that with her. Someone once said about [remembering] my mother: 'All you have to do is look in the mirror.' She's with me still." 
Originally published Feb 8, 2023.