NBC Insider Exclusive
Create a free profile to get unlimited access to exclusive show news, updates, and more!
Sign Up For Free to View
You Won't Believe Who Mariska Hargitay Confused Chris Meloni For When They Met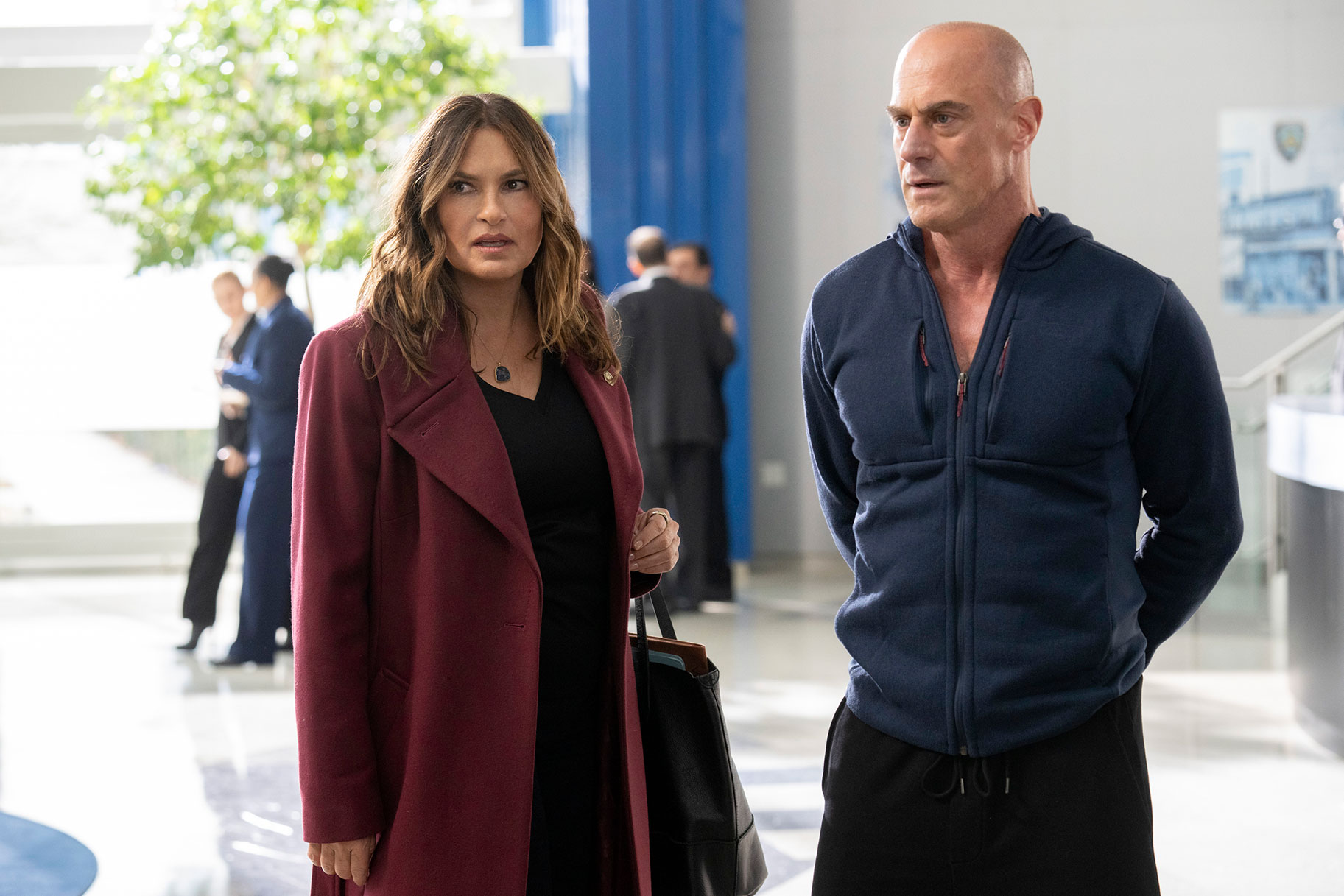 Many Law & Order: Special Victims Unit characters have a strong hold on audiences, but the entire series is led by the one and only Mariska Hargitay as Captain Olivia Benson. Hargitay brings a warmth to the character that can't be replicated, and her dedication to helping assault survivors both on and off camera has led her to become a true hero to many.
With 23 seasons of Benson kicking criminal butt on Law & Order: SVU, we're taking a look at some fun facts about Hargitay that you might not know. 
1. Mariska Hargitay is the founder of the Joyful Heart Foundation.
Hargitay's role in SVU sparked her passion for helping sexual assault survivors off camera, leading her to establish the Joyful Heart Foundation. The foundation supports survivors of sexual assault, child abuse, and domestic violence.
2. Mariska Hargitay confused Christopher Meloni for John Slattery at their SVU Audition.
In an interview on Late Night With Seth Meyers, Hargitay and Meloni recreated the moment they first met, which brought with it some hilarious confusion. Hargitay thought that she would be auditioning for Benson alongside Mad Men star Slattery, running to Meloni for a hug while saying, "Slattery!" All misjudgment aside, the moment sparked an instant comedic connection between the two SVU stars, leading them to nail their Audition.
3. Mariska Hargitay produced the documentary I Am Evidence.
While many know Hargitay for her stunning performance as Olivia Benson, she is also a producer for the documentary I Am Evidence. The film explores the unfortunate backlog of untested rape kits in the U.S. She refers to this mountain of untested evidence as "the clearest and most shocking demonstration of how we regard these crimes in our country."
4. Mariska Hargitay puts in the research work for her role as Benson.
Anytime Hargitay is unfamiliar with a topic seen in an SVU episode, she is known to complete rigorous research before filming. In an interview for her 2021 Glamour Woman of the Year award, Hargitay revealed, "I didn't know about sexual assault, domestic violence, child abuse, I didn't know about these issues. And because that's uniquely and solely what the Special Victims Unit dealt with, I had to educate myself. And it was painfully eye-opening and really changed the course of my life."
5. Mariska Hargitay knew from the beginning that Meloni would be her SVU partner. 
Bensler, Marshmellow, Chriska, regardless of what you prefer to call the power duo of Benson and Stabler, Hargitay claims she always knew that Meloni was going to be her partner. In an interview with People, she explained that auditioning alongside Meloni was "effortless, easy, fun. I walked in and I went, 'That guy, that's the guy.' It went deep really fast. We both knew it was something big."
6. Mariska Hargitay pulled a true Benson by testifying on Capitol Hill for assault survivors.
While Hargitay has done great work advocating for assault survivors with the Joyful Heart Foundation and her on-screen work, she took her passion for these issues one step further by testifying on Capitol Hill in 2010 and 2017 for rape kit reform on behalf of those survivors. Hargitay commented on the backlog of evidence kits, challenging Congress members to take action surrounding this pressing issue. 
7. Mariska Hargitay starred in a 1980s country music video.
While attending UCLA in the 1980s, Hargitay starred in the music video for the Ronnie Milsap track, "She Loves My Car." You can tell the young Hargitay is having a blast while vrooming down a colorful and quintessentially '80s terrain in a red hot convertible.
8. Mariska Hargitay feels Benson has become part of her personality.
If you've played an SVU character for over 20 years, its only natural for your TV persona to bleed into your reality from time to time. Hargitay explained in an interview with E! that she sometimes isn't sure where "Mariska ends and Olivia starts." Hargitay continued, "They're just becoming so enmeshed and entwined, and I think that's a good thing."
9. Mariska Hargitay was once in an improv troupe taught by Kathy Griffin. 
Back in the 1990s, Hargitay was a performer at the Groundlings theatre company in L.A. In Griffin's autobiography, Official Book Club Selection, she explains that many years before Benson was a reality, she helped Hargitay exercise her funny bone. Many years later, Griffin guest-starred in an SVU episode titled "P.C.," bringing their comedy-drama relationship full circle.
10. Mariska Hargitay met her husband Peter Hermann on the SVU set. 
Hargitay and Hermann first connected while filming SVU when Hermann played the recurring character of Defense Attorney Trevor Langan. The couple got married in 2004. 
Law & Order: SVU returns to NBC this fall Thursday, September 22 at 9/8 c on NBC. Catch up now on Peacock and NBC.