NBC Insider Exclusive
Create a free profile to get unlimited access to exclusive show news, updates, and more!
Sign Up For Free to View
Where You Can Watch Law & Order on NBC
Dun-dun: Here's how to watch the iconic series right now.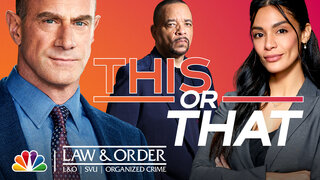 After 12 years, the original Law & Order has returned in full force. The flagship series from Dick Wolf returned to NBC in early 2022 with a revamped cast of beloved cast stars old and new. The new Law & Order, starring franchise veteran Sam Waterston alongside Jeffrey Donovan, Camryn Manheim, Hugh Dancy, and Odelya Halevi, is already a courtroom classic.  
RELATED: Sam Waterston Reveals Why Bringing Law & Order Back Was a 'Challenge' 
The show has been notorious for covering heavy subjects within the justice system and viewers can't get enough of the addictive formula. "I think it's brave, I think it's courageous, I think it's real, I think it's raw, I think it's timely," Mehcad Brooks, who plays newcomer Detective Jalen Shaw, told The Wrap. "It's a conversation that America needs to have, that the system has been in play for so long." 
After an ultra-intense run,Season 22 concluded in May 2023. But don't worry — Season 23 is set to return. Here's everything you need to know about how and where to watch Law & Order.  
What happened in Season 22 of Law & Order?
Like every season before, Season 22 of Law & Order was bursting with hard-hitting cases and complex emotional arcs. The ever-shifting world of courtroom politics continues to be a topic of intrigue for fans, especially those who have carried a torch for the series over the past four decades.
RELATED: Everything to Know About Law & Order Season 22
Waterston celebrated his 400th episode with a special guest star: Waterston's real-life daughter, Elisabeth Waterston. Elisabeth played D.A. Jack McCoy's daughter in the show, who followed in her father's footsteps into law... but as a defense attorney. 
Originally published Nov 20, 2023.