NBC Insider Exclusive
Create a free profile to get unlimited access to exclusive show news, updates, and more!
Sign Up For Free to View
What We Know About Detective Jalen Shaw on Law & Order
The new character is a "calm wolf," actor Mehcad Brooks says.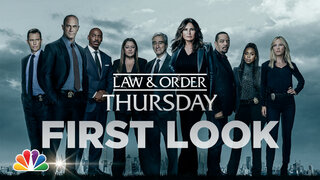 During the action-packed, three hour crossover event of Law & Order, Law & Order: Special Victims Unit, and Law & Order: Organized Crime, we saw many of our beloved characters return. However, we were also introduced to one new face: Detective Jalen Shaw. Shaw is the new crime-solving partner to the venerated Frank Cosgrove (Jeffrey Donovan). But what, exactly, do we know about this new character?
He is played by Mehcad Brooks
You may recognize the 41-year-old actor from roles in shows like Desperate Housewives and Supergirl. For his character's introduction to Law & Order, he told Entertainment Weekly how ecstatic he was to be on the show. "It's a dream come true," he said. "I grew up watching the show, so it's surreal."
Brooks went on to describe Detective Jalen Shaw as a "calm wolf," meaning he has a composed demeanor but can be fierce when necessary. "He's a wolf that hunts for peace and when people get in the way of that, you see the wolf," he said.
He is new to the homicide team
We're first introduced to Detective Jalen Shaw when he arrives at the crime scene of a 15-year-old girl who was murdered, and he attempts to take over the case. However, Detective Cosgrove was on the scene during the murder and insisted that the two hunt down the killer together. Shaw informs Cosgrove that he is new to the homicide division, and spent his previous five years as a detective handling narcotics cases. Therefore, he decided to take charge delivering the news of the girl's death to her aunt and witnessed his first autopsy on that same day.
He has a background in law
Despite his rookie status as a homicide detective, Shaw is not an amateur when it comes to another significant aspect of the criminal justices system. When Shaw and Cosgrove interviewed an employee at a pier near the crime scene, Cosgrove aggressively confronted the worker for some important information and surveillance footage. This caused Shaw to issue him an educated warning: If the employee files a formal complaint that the detectives threatened him, the remaining evidence for the case is jeopardized. When Cosgrove inquired as to how Shaw was so well-versed in this information, Shaw revealed that he was a formal lawyer as well. "NYU. Practiced for three years, it wasn't for me, so I enrolled in the Academy," he said. 
To find out more about Shaw, watch Law & Order on NBC Thursdays at 8/7c and next day on Peacock.