NBC Insider Exclusive
Create a free profile to get unlimited access to exclusive show news, updates, and more!
Sign Up For Free to View
Everything to Know About the 3-Hour Law & Order Premiere Event
Capt. Olivia Benson, Det. Elliot Stabler, and District Attorney Jack McCoy are joining forces on a single case.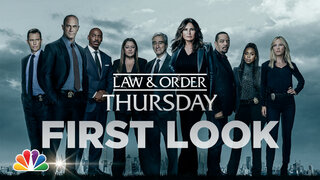 For the first time in Law & Order history, all three franchises are set for a massive, intertwined Premiere Event. Does anyone else have chills?
The casts from Law & Order, Law & Order: Organized Crime, and Law & Order: Special Victims Unit are all uniting for an intense, three-hour long action packed episode that is sure to have us on the edge of our seats.
"This unprecedented scheduling block is a tribute to all the Law & Order fans who've been watching this iconic brand for four decades on NBC," Lisa Katz, NBCU Television and Streaming's president of scripted programming, said in a statement. "We couldn't be more excited to open our season with such a historic event."
Reflecting on seeing Olivia Benson, Elliot Stabler, Jack McCoy, and the rest of the gang all together, creator Dick Wolf said in a statement: "Nothing demonstrates the power of the Law & Order brand more than an ambitious three-hour event with a story that is truly ripped from the headlines," he said. "Rick [Eid] and Gwen [Sigan] did an amazing job writing a compelling script, and I can't think of a bigger and better way to launch the new season of Law & Order Thursday."
Ahead, everything you need to know.
What is the release date of the Law & Order Premiere Event?
The episode—rightfully titled "A Law & Order Premiere Event"—will premiere on Thursday, September 22 at 8/7c on NBC. At three hours long it will serve as the collective season premiere for Law & Order Season 22, SVU Season 24, and OC Season 3. 
In subsequent Thursdays this fall, each series will retain its 8/7c, 9/8c, and 10/9c time slot, respectively.
What will the Premiere Event be about?
NBC released this synopsis about the story to come: 
"As the telecast begins, a mysterious young girl is shot in cold blood and Det. Frank Cosgrove (Jeffrey Donovan) teams up with Det. Jalen Shaw (Mehcad Brooks, first episode) to track down her killer. Capt. Olivia Benson (Mariska Hargitay) and Det. Elliot Stabler (Christopher Meloni) are called in to help when they realize they have more than a typical homicide case on their hands. After uncovering key evidence, Jack McCoy (Sam Waterston) and ADA Nolan Price (Hugh Dancy) seek justice against an international crime ring, but complications threaten the outcome of their case."
Is there a trailer for the Law & Order Premiere Event?
Yes there is, and you can watch it, above. The dramatic trailer features voiceovers from Law & Order favorites—Benson, Stabler, McCoy, Tutuola, Dixon, Cosgrove, and Bell—as they all combine forces on the latest gruesome case that's brought them all together.
Which characters will we see in the Law & Order Premiere Event?
We've listed the main cast set to be featured from each franchise below.
Law & Order
Law & Order: SVU
Law & Order: OC
How can I watch the Premiere Event?
You can catch it on NBC Thursday, September 22 at 8/7c. The episode will stream the next day on Peacock.