NBC Insider Exclusive
Create a free profile to get unlimited access to exclusive show news, updates, and more!
Sign Up For Free to View
Sam Waterston's Most Unforgettable Moments as DA Jack McCoy on Law & Order
Law & Order wouldn't be the same without DA Jack McCoy.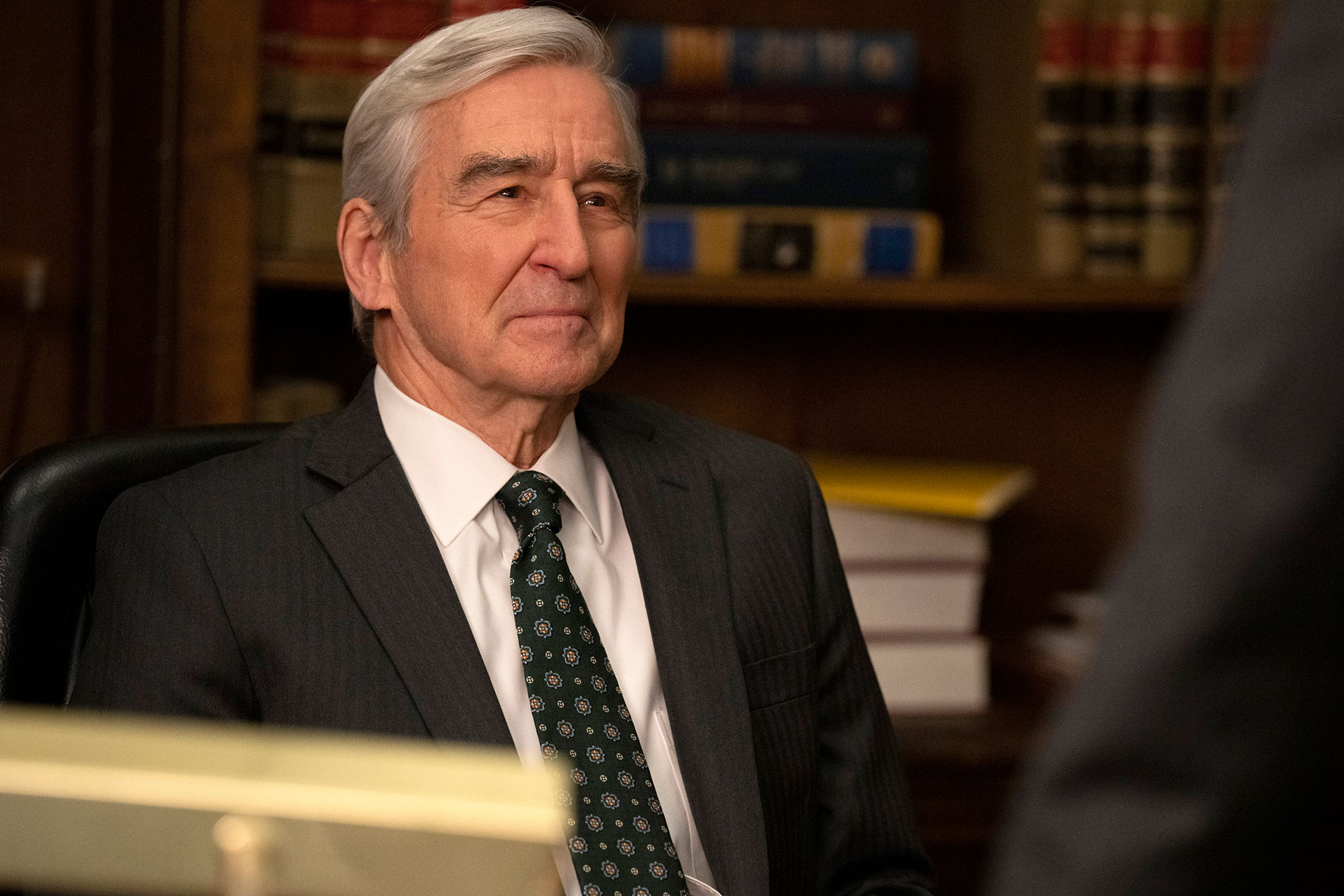 Law & Order, the mothership series that launched numerous successful spin-offs, is a timeless television staple. First premiering in 1990, each episode of Law & Order explores the investigators and district attorneys behind putting dangerous criminals behind bars. The thrilling plot lines are enough to keep anyone's interest piqued, but the dynamic cast of characters is what keeps Law & Order fans coming back for more.  
The new Law & Order—which returns with Season 22 Thursday, September 22 at 8/7c on NBC—is sticking to its thrilling roots. It features a fresh cast of legal experts led by long-time series regular and fan-favorite Sam Waterston as District Attorney Jack McCoy. 
Sam Waterston's Best Law & Order Episodes of All Time
Jack McCoy always manages to see justice served. He is a complex character, often implementing questionable litigation strategies to charge his defendants. McCoy's passion for justice is infallible throughout all of his seasons of Law & Order. Here are some of his best moments on the show. 
"Second Opinion" (Season 5, Episode 1)
Our list of best Sam Waterston Law & Order episodes would be incomplete without the introduction to his character, the new Executive Assistant District Attorney. The drama unfurls inside a hospital, with a dead woman the team believes was poisoned by her husband. Later, they realize the woman was drugged by her doctor as he implemented alternative methods for her cancer treatment. McCoy and the squad go after the doctor, who ends up having a long history of horrific treatment methods for his cancer patients.
"Aftershock" (Season 6, Episode 23) 
A favorite among many avid Law & Order fans is "Aftershock." After experiencing the execution of an individual they assisted in getting sentenced to death, each character processes the trauma differently. In a rare peek into the characters' personal lives, they all struggle to move past their actions. The drama culminates in McCoy losing his long-time lover and fellow member of the DA office, Claire Kincaid (Jill Hennessy) to a drunk driving accident. The episode is a true shocker, with rippling consequences that affect the rest of the series. 
"Double Down" Season 7, Episode 19
If anyone is familiar with making deals with criminals to find a kidnapped victim, it's Jack McCoy. In "Double Down," McCoy strikes an arrangement with a known criminal to locate a kidnapped person. The outcome goes south quickly when the victim is found already murdered, with McCoy suspecting he was set up. When navigating striking down the deal with the Judge, McCoy is met with resistance, resulting in our favorite DA having his back against the wall. 
"Monster" Season 8, Episode 24
"Monster" is an action-packed Law & Order episode that follows the search for a pedophile. Meanwhile, McCoy is forced to appear before a disciplinary committee after he is questioned about his conduct during a DUI case. The episode is political, nail-biting, and personal for all characters involved: a chef's kiss among Law & Order episodes. 
"Hate" Season 9, Episode 10
Law & Order has never been afraid to tackle the issue of racism within law enforcement and court systems. Series creator Dick Wolf confronts this head-on in "Hate." The plot: McCoy goes after a group of young white supremacists for the murder of a teenage girl. The twist: Not only does McCoy go after the adolescents but also the adult leader of the group. McCoy argues that the adult suspect is equally guilty due to his negative influence on the children, ultimately leading to them committing the atrocious acts. 
"Gunshow" Season 10, Episode 1
"Gunshow" explores a mass shooting in Central Park that kills five people. The episode is a success because instead of taking the predictable route of prosecuting the shooter, McCoy decides to pursue the manufacturers of the shooter's weapon. Due to a lack of needed restrictions, the weapon was easily converted to a fully automated weapon, causing McCoy to pursue murder charges against the gun company. 
"Criminal Law" Season 16, Episode 9
In "Criminal Law," McCoy ends up on a hit list related to a trail of random murders. He discovers the murders are linked to a former murder trial McCoy was the main prosecutor on, alongside the witnesses who testified. The culprit is revealed to be in the process of a retrial and is hoping to eliminate anyone who threatens his ability to be found innocent. If you love time-based races for justice on Law & Order, this episode is one of Waterston's finest.
"Rubber Room" Season 20, Episode 23
Before the release of the new Law & Order, "Rubber Room" was considered the finale of Law & Order. "Rubber Room" is an intense ride: There's an anonymous blogger threatening to bomb a school, a surprise villain at the end, and a McCoy monologue about the moral lessons of legal litigations. As far as successful series finales go, "Rubber Room" stuck the landing. Thankfully, Waterston is back in the new Law & Order to give us even more legal drama madness.