NBC Insider Exclusive
Create a free profile to get unlimited access to exclusive show news, updates, and more!
Sign Up For Free to View
Olivia Benson's 10 Most Intense Law & Order: SVU Episodes
As TV's longest-running detective, Benson has been through it.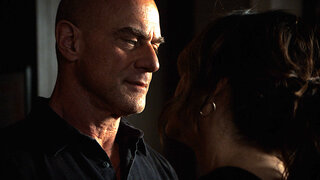 As TV's longest-running detective, Law & Order: Special Victims Unit's Olivia Benson (Mariska Hargitay) has been through the wringer more than a few times. 
Benson is always the first to throw herself in the line of fire in the name of  justice. Hargitay nails her performance of Benson, approaching each survivor with vulnerability and tenderness while also holding each criminal accountable with resilient ferocity. These 10 intense Benson episodes in SVU's history speak to her brilliant character. 
Benson and the SVU race to release a victim buried alive
In "Scavenger," Benson and the SVU attempt to track down an active serial killer who leaves clues throughout the city in a Zodiac Killer-esque fashion. The team tracks the culprit down, but while they have him in the interrogation room, they learn that his latest victim is buried alive. Even worse? The victim has only 15 hours of air from an oxygen tank, and the clock is ticking. 
Benson keeps a kidnapped child on the phone as the SVU track the call
Most of the time, Benson is running through the streets of NYC to track down the bad guys. In "911," the episode that earned Hargitay an Emmy, Benson is forced to stay on the phone after a kidnapped child calls 9-1-1. The SVU keeps the frightened child on the line in their attempts to track her location. 
Benson and Stabler are used against each other
In Season 7's "Fault," SVU fans are served a double whammy when Benson is knifed by a kidnapper and her partner, Stabler (Christopher Meloni), is held at gunpoint. While Benson and Stabler end the episode relatively unscathed, the kidnapper kills a child while the partners protect one another, forcing them to reevaluate their working relationship. Benson makes the call to request a new partner, saying, "We both chose each other over the job. You and this job are about the only things I've got anymore. I don't want to wreck that." It's a dramatic and perfectly-acted episode, with Hargitay's performance at the forefront.
Benson and Stabler are both pushed to their limit by a shocking guest star
It's always thrilling when an SVU episode features a celebrity guest star, but Robin Williams knocked his episode out of the park. The late comedian takes a horrific turn as an audio engineer with a passion for opposing authority figures, leading Benson and Stabler on a wild game of cat-and-mouse. Williams encourages people to commit heinous acts by questioning their responses to authority. At one point, Williams convinces Stabler (and the audience) that Benson has been kidnapped and is strapped to an electric chair. While Bensler gets out alive in the end, the entire episode keeps fans on the edge of their seat. 
Benson gets into a car accident with Stabler's pregnant wife, forcing her to deliver the baby
Paternity is packed with action, both emotionally and physically, for all the SVU characters. Stabler goes on a trip, leaving his pregnant wife, Kathy, with Benson. The two women get into a life-threatening car crash, which causes Kathy to go into labor prematurely. But no task is too much for Benson to handle: She takes matters into her own hands (literally) by delivering the baby.
Benson loses her long-time partner, Stabler
In "Scorched Earth," we see Benson crumble for a devastating reason: Stabler has left the SVU. Benson's long-time partner and best friend leaves without notice; she receives the surprising news at work. While Benson eventually pulls herself together, watching our typically-steely lady fall apart is a difficult moment for any SVU fan to watch. 
Benson is kidnapped and narrowly escapes being murdered
Benson is well-accustomed to saving kidnapped victims, but in "Surrender Benson," we see the tables turn on our SVU star very dramatically. One of the worst SVU villains of all time, William Lewis, kidnaps Benson and locks her away in a remote cabin in the woods. While Benson narrowly escapes her restraints and apprehends Lewis, this episode contains the first SVU moment where audiences believe Benson might snap and kill the bad guy. 
Benson plays a harrowing game of Russian Roulette with William Lewis
If watching Benson get kidnapped, escape, and then go through the grueling William Lewis trial wasn't hard enough, SVU threw fans another wrench with the episode "Beast's Obsession." Most of Season 15 follows Lewis' trial until he escapes from prison and kidnaps a 12-year-old. Lewis contacts Benson, who then sneaks away to help the frightened child. After nearly raping Benson, Lewis suddenly changes pace to a game of Russian Roulette, encouraging a handcuffed Benson to play along. After a few nail-biting empty rounds, Lewis shoots himself after telling Benson that the last thing she'll ever see before dying is the horrific scene in front of her. The episode is heavy, to say the least, and has rippling consequences for Benson throughout the entire series. 
Benson adopts her son, Noah Benson
"Surrendering Noah" is an intense SVU episode for many reasons, but it ends in a rewarding moment for our favorite detective. During the trial of a serial rapist and murderer, the culprit grabs an officer's gun, takes her hostage, and attempts to escape the deliberation. Even worse: Multiple people die in the fallout, and Benson's partner is injured, forcing him to leave the SVU. But no worries: The action-packed episode has a surprisingly lovely ending with Benson officially adopting her son, Noah. Benson always wanted to be a mom but was afraid the SVU would hold her back, so the moment is a particularly gratifying scene for fans. 
Benson is finally promoted to Captain of the SVU
After 20 seasons and over 400 episodes, SVU fans everywhere cheered when Benson was finally announced as Captain of the SVU. Benson clearly deserves the title; fans watched as she climbed the workplace ladder and tackled any case that came her way for many years. Benson's promotion is one of the more happily intense SVU episodes.
Law & Order: SVU Season 24 premieres Thursday, September 22 at 9/8c on NBC. Catch up now on Peacock and NBC.