NBC Insider Exclusive
Create a free profile to get unlimited access to exclusive show news, updates, and more!
Sign Up For Free to View
How Long Has Law & Order: SVU Been on the Air?
Law & Order: SVU is the longest-running primetime live-action series in television history!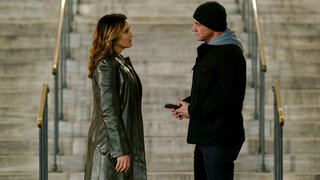 It's hard to remember a time before NBC's Law & Order: Special Victims Unit was on the air. At this point, hearing that "Dun-Dun" sound invokes the natural response to sit back and enjoy an hour of action-packed legal drama.
The Law & Order spin-off focuses on sexual crimes, and became the longest-running primetime U.S. live-action series in the history of television during its 21st season. It finished its 24th season in Spring 2023, and has already been renewed for a 25th season.
That's a lot of episodes, and Law & Order fans are not complaining about it. Take a look back at when SVU began and how the award-winning series came to be. 
When did Law & Order: SVU start?
Based on the widespread success of the original Law & Order, which first aired in 1990, the possibility of spin-offs were on the horizon.
In 1999, L&O creator Dick Wolf wanted to create a spin-off that specifically focused on sex crimes. After workshopping the title — the original idea was Law & Order: Sex Crimes — the show producers settled on a name that focused on the team responsible for finding justice for these special victims.
The result was the birth of NBC's Law & Order: Special Victims Unit, which premiered on September 20, 1999. The success of SVU has led to many other Law & Order spin-offs such as Law & Order: Organized Crime as well as the creation of the One Chicago franchise.
The 25th season of Law & Order: SVU will premiere this fall on NBC.
How did Christopher Meloni and Mariska Hargitay get cast in Law & Order: SVU?
In the book Law & Order: Special Victims Unit Unofficial Companion, Dick Wolf discussed the need to develop complex characters to star in SVU.
"I wrote the pilot for SVU in early 1999, creating two intense, multi-faceted, and complicated characters, Elliot Stabler and Olivia Benson," he said. "Stabler was a typical cop, a family man with four kids. Benson was the child of rape, so to her, working with special victims was a way to right the wrongs of her own life."
"We found our perfect match with Christopher Meloni (Detective Elliot Stabler) and Mariska Hargitay (Detective Olivia Benson)," he added "They have become one of the most popular and enduring partners on television."
Ain't that the truth! 
This story was originally published on July 6, 2022. It was updated June 12, 2023.