NBC Insider Exclusive
Create a free profile to get unlimited access to exclusive show news, updates, and more!
Sign Up For Free to View
Inside Bradley Whitford's Guest Appearance in the Latest Law & Order: SVU
With Mariska Hargitay in the director's chair this time, SVU fans were in for an emotional journey.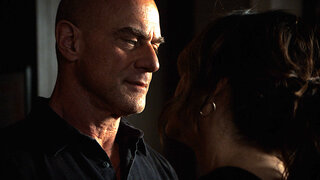 Bradley Whitford and Nancy Travis guest-starred on the February 23rd episode of Law & Order: Special Victims Unit, with Mariska Hargitay in the director's chair. It was a thrill from beginning to end, with some heartwarming moments of vulnerability sprinkled throughout.
Season 24's "King of the Moon" begins with the beautiful love story of Pence and Winnie Humphrey. Starting in 1973, Winnie (Travis) and Pence (Whitford) met after Winnie allowed the heavily-bullied Pence to win a spelling bee competition. Winnie tells him that she read his short story, "King of the Moon," about a lonely boy, and she wishes he would talk more.
In 1983, the couple get married and move in together, deciding to put their desks up against each other's to stay close at all times. Cut to 2003, the couple prepares for an award ceremony for Pence's writing, and there are hints that Pence's mental state is deteriorating as he struggles to focus. In 2015, after medical testing, the couple learn Pence is suffering from early-onset dementia.
And lastly, cut to the present day: Pence has a home caregiver, Virginia, who keeps his medications on track. One night, Pence wakes up and finds Winnie in the living room. He voices concerns that she is cheating on him, but she tells him he has nothing to worry about, reminding him he will always be her "King of the Moon." 
But as the sun rises on Pence's confused face, a horrific reality unfurls. Winnie's murdered body lies on the ground, and a terrified Pence begins to spell the same word he did on the day they met. As the cops arrive and snap Pence back to reality, he makes a shocking confession.
"I did it," Pence tells them. "I made love to her, and I killed her. I did it all."
As Pence's lifelong love story turns into a morbid murder mystery, Benson has been busy with a background check on Detective Velasco (Octavio Pisano). After Velasco shared incriminating details to get information from a gang member, Benson has been making sure he isn't the murderer in an ongoing case. Fin (Ice T) takes the case off Benson's hands to allow her plausible deniability. 
Carisi (Peter Scanavino) visits the SVU after learning the details about the Humphrey case. Something seems off to him, and he can't shake it. Benson reveals she has read some of Pence's books, which she explains center around brain disorders. Carisi plays the confession tape from Pence, where he claims the brain damage he has suffered from caused him to rape and murder his wife.
"You don't think that he did it," Benson guesses. 
"Something smells off," Carisi confirms.  
"Is this you speaking as an ADA or an ex-cop?" Benson asks. 
"Maybe it's me speaking as a hopeless romantic," Carisi explains. "Now there's no signs of forced entry. No valuables were taken. Signs of sexual assault, but there's no DNA." And with Pence's confession, little is being done to look into those murky details, with Pence likely heading to prison.
"Him and his wife were married for 40 years," Carisi continues. "It was this fairy tale love affair. He wrote about it in one of his books, The Neurobiology of Love." Carisi effectively pulls on Benson's heartstrings, and she agrees to look into Pence's case with a better lens on Pence's potential innocence.
Meanwhile, Fin interrogates Velasco and questions his previous police tactics and why he would know so many details about a double homicide in Texas. Forced into a corner, Velasco reveals his former friend was the one to kill two people as part of a cartel induction ritual and Velasco was there. Velasco was expected to kill one of them but backed out at the last moment, and his friend took the hit to absolve him. Velasco ran from the entire ordeal to NYC and became a cop to redeem himself. But the case is still open, and Fin knows Velasco can't stay loyal to his friend and loyal to the SVU at the same time. 
Benson and Carisi visit Pence and his lawyer, and he confirms that he smothered his wife as part of a planned joint suicide plan. Pence's lawyer confirms Pence killed his wife and failed to follow through on his own end. But just from talking to him for a few moments, Benson agrees that he is an unreliable witness, and is baffled by the lack of investigation from homicide detectives. 
While visiting Pence's home, Carisi and Benson uncover Pence's sleep apnea machine while searching for the shotgun Pence claimed he was going to use. But their investigation goes smoother than they expect after Benson finds the digital log of the CPAP. Pence woke up an hour before the murder occurred, and was only awake for a few minutes, not enough time to kill his wife. 
Benson updates Pence about the case, and he becomes distraught after realizing his one comfort, that he was the one to kill his wife, has been torn away. Upon learning his wife was murdered and raped in such a horrific manner, Pence attempts to cut his wrist in the lobby. When Benson and Carisi visit Pence in the hospital later, Pence speaks about Winnie as if she is still alive, and the detectives agree they'll need a solid case to secure his innocence. 
Carisi mentions that Winnie could have opened the door to the killer, and Benson voices concerns over the homicide investigation missing something like that. But with a confession, they may have missed checking the cameras, and they quickly discover the security guard allowed a food deliveryman into the building around the same time as the murder.
Benson grabs a pic of the deliveryman to show Pence, and he identifies the man as Virginia's nephew, Kevin, whom he describes as having cold eyes. Carisi uncovers evidence that Kevin had one of the Humphreys' checkbooks at his home, but they need Pence to ID him to properly convict. But when Pence analyzes the lineup, he deliberately misidentifies Kevin. 
Nothing gets past Benson, though, and she calls Pence out shortly after. Pence explores the pitfalls of dementia with her, admitting that the concept of prison doesn't seem so horrible because he won't remember why he is there, but Kevin would remember everything. "Some memories are worse than prison," he tells Benson, before explaining that he feels better knowing that he and Winnie were more in love in the last few years than ever before and that he still feels like a "full" King of the Moon. 
Knowing they can't rely on Pence's testimony, Carisi goes after Kevin's aunt, Virginia. She identifies numerous belongings of Winnie's in Kevin's girlfriend's apartment, which is everything they need to convict. Kevin cracks like an egg almost instantly, confessing to the rape and murder and absolving Pence of guilt. 
Fin levels with Velasco and tells him that he is still ultimately loyal to a murderer by not pressing charges against his friend. Velasco and Benson have a much-needed one-on-one, where she reveals he will eventually need to do something about the open case. She tells him he has been living a lie, and that it needs to change. 
"You owe a debt to the two people that were killed," Benson tells him. "Even though they were drug dealers. Doesn't have to happen today, doesn't have to happen tomorrow. But you will find that friend and bring him to justice."
The episode ends with a touching scene between Benson and Pence as she visits his home and reads him "King of the Moon" before bed. Pence imagines himself as a young boy again looking up at the stars, before he fantasizes that he is again alone on the moon as its sole king. Eventually, he decides to come back to Earth and fall in love and finds his queen, Winnie, back in their childhood classroom. As they hold hands in Pence's memory, he comes back to reality as Benson finishes the final page of the emotional story.
"Goodnight," Benson says.
"Goodnight, Winifred," Pence tells an emotional Benson.
Watch Law & Order: Special Victims Unit Thursdays at 9/8c on NBC and the next day on Peacock.