NBC Insider Exclusive
Create a free profile to get unlimited access to exclusive show news, updates, and more!
Sign Up For Free to View
How Many Law & Order: SVU Episodes Has Mariska Hargitay Directed?
Hargitay directs SVU Season 24's "King of the Moon," which premieres February 23rd on NBC.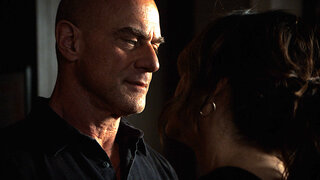 Many fans know Mariska Hargitay for her work onscreen as Captain Olivia Benson on Law & Order: Special Victims Unit. However, you may not realize she's also talented behind the camera as one of the series' guest directors. And her episodes are some of the show's best.
If anyone could pull off a double shift playing Benson while simultaneously directing her SVU co-stars, it's Hargitay. The woman is a force to be reckoned with in all areas! 
In addition to starring in SVU, Hargitay is the proud director of eight nail-biting episodes. Let's look back at each action-packed one. 
Back in Season 15, Benson had her hands full with a persistent columnist, Jimmy MacArthur, who managed to gain full access to Benson and the squad for a piece about the Manhattan SVU. The episode is a fascinating look at how the media can influence an investigation after a rape case turns into a hate crime. MacArthur convinced many that the crime was a hoax, which threw a major wrench in Benson's efforts to put away the rapist.
Season 16's "Padre Sandunguero" focused on former SVU detective Nick Amaro and the inner battle between defending loved ones and maintaining honor. After Nick's estranged father invites him to his wedding, Nick becomes entangled in a domestic violence case. This puts him at odds with his father, who, wait for it, just so happens to be the main suspect in the case. 
Viewers were at the edge of their seats during "A Misunderstanding," when two high school students are accused of sexual assault and Benson's investigation quickly derailed into a chaotic he-said, she-said situation. As many sympathize with the accused due to their age, the squad does everything it can to ensure justice is still served. 
Back before our main man Carisi (Peter Scanavino) was a hard-hitting ADA, he was going undercover as one of the SVU's most dedicated detectives. In "Sheltered Outcasts," Carisi went undercover at a sex offender shelter to investigate its residents after a string of neighborhood rapes are reported. We love an undercover mission, and when Carisi is on the clock, you know they'll find their guy.
The case in "Motherly Love" is a real doozy, but it had viewers hooked from the very start. After a teenage boy killed his best friend to prevent him from assaulting his mother, the squad was called in to check everything out. But after details of his mom's personal life began to paint a disturbing new picture, Benson realized the mother might not be innocent, after all. 
"Mea Culpa" (Season 20, Episode 9)
Hargitay truly flipped the script with "Mea Culpa," which explored what the SVU squad would do if one of their own, in this instance, ADA Peter Stone, was accused of sexual assault. After Stone was accused of committing sexual assault in the distant past, he recruits Benson to help investigate his case. Luckily, this was a case of mistaken identity, but the episode explored some complex and challenging topics.
SVU is never afraid to tackle realistic scenarios, such as in "She Paints For Vengeance," when a woman took matters into her own hands. After a woman's accusations against a popular athlete go ignored, she decided to put her claims on a billboard to encourage other victims to come forward. 
The SVU gets brought in, and Benson goes above and beyond to guarantee that the special victims were finally heard. 
"King of the Moon" (Season 24, Episode 15)
Bradley Whitford guest stars in SVU's "King of the Moon," the latest from director Hargitay. The episode synopsis reads, "A man with dementia confesses to murder, but Benson and Carisi believe there's more to the case. When rumors swirl around the squad room, Tutuola presses Velasco for the truth."
Watch Law & Order: Special Victims Unit Thursdays at 9/8c on NBC and the next day on Peacock.