NBC Insider Exclusive
Create a free profile to get unlimited access to exclusive show news, updates, and more!
Sign Up For Free to View
Fans Are Going Wild Over That Bensler Almost-Kiss—See Their Reactions
With almost a quarter century of romantic tension, SVU fans are freaking out.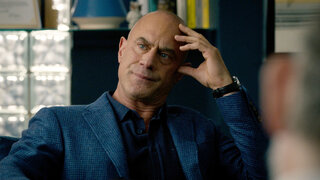 Elliot Stabler (Christopher Meloni) and Olivia Benson (Mariska Hargitay) sitting in a tree, almost k-i-s-s-i-n-g on Law & Order: Special Victims Unit! 
Yes, after 24 seasons of slow-burn romantic chemistry, Stabler has made the first move, and fans are reeling.
The January 26 episode of Law & Order: SVU was a wild watch, especially in the final moments, when Stabler visited Benson at her apartment. Benson has had her hands full going after a Bronx-based mob boss, and within the chaos, she and Stabler have been distant. But as soon as Stabler saw Benson's wounds, he couldn't help but communicate his concern.
"Why didn't you call me?" Stabler asked.
"Because I knew that you would try to protect me," Benson confessed.
"Is there something wrong with that? I care for you," Stabler challenged. "Liv, look at me."
And look at Stabler she did, which resulted in explosive tension. The former partners inched closer and closer and nearly kissed before Benson pulled back at the last moment. Benson told Stabler that she wasn't "ready for this."
With so many years of history, it's understandable, but for Bensler fans who have prayed for this moment since Season 1, it was still intense. 
And the Twitter gods delivered. SVU fans swarmed Twitter with reactions to the intimate Benson and Stabler scene, and it's pretty hilarious. Read on to soak in all of those sweet sweet SVU fan reactions.
"OLIVIA BENSON WANTS ELLIOT STABLER BUT SHE IS TERRIFIED THAT IT'S NOT GOING TO WORK OUT AND SHE CAN'T GO THROUGH LOSING HIM AGAIN SO SHE'S KEEPING HIM AT ARMS LENGTH AND IT JUST MAKES ME SO ????!!!!????!!!!!" one fan tweeted.
Another wrote, "It's diabolical that Elliot Stabler and Olivia Benson have been slow burning for a quarter century. QUARTER. CENTURY."
Benson and Stabler have been getting fans riled up since their early SVU beginnings, and with this iconic almost-kiss now a factor, many wonder if they'll end up together. 
Meloni reflected on the scene in an interview with TODAY. "It was an interesting scene, a delicate scene, a difficult scene. Awkward, but that's all good," he said. "Because I think those were all elements that were part of the scene."
Find out what happens to Benson and Stabler by watching Law & Order: SVU on NBC Thursdays at 9/8c and the next day on Peacock.