NBC Insider Exclusive
Create a free profile to get unlimited access to exclusive show news, updates, and more!
Sign Up For Free to View
Mariska Hargitay Wrote the Sweetest Birthday Tribute to Her TV Son, Noah
Ryan Buggle has been a fan fave since Season 15. And his on-screen mom is showing some love.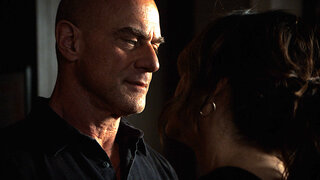 If Olivia Benson (Mariska Hargitay) isn't putting away bad guys on Law & Order: Special Victims Unit, you can bet she's lovingly taking care of her adopted son, Noah, played by Ryan Buggle. And Hargitay is showing her on-screen son some love in honor of his 13th birthday. That's right: Noah is now a teenager! 
Benson has proved she's willing to jump through hell and high water if it means keeping Noah safe and happy. As one of Benson's only weaknesses, outside of her complicated situation with Stabler (Chris Meloni), Noah is a focal point in some of the most nail-biting SVU storylines.
Hargitay, meanwhile, is the proud mother of three of her own kids, but her relationship with Buggle has become quite maternal, too, through their dozens of scenes working together as his mama bear. In honor of Buggle's 13th birthday, Hargitay took to Instagram to post a thoughtful message accompanied by a black and white slideshow of photos. 
"Happy birthday to this newly minted teenager! @ryanbuggle, you've always been wise—and magnificent and inspired and inspiring—beyond your years," Hargitay captioned the slideshow. "I cannot wait to see what your 13th year has in store. It's been such a joy working with you and getting to know your beautiful heart. I love your spirit and I love you. Happy happy birthday! 🎉🎂🎊🎈 #13 #Teenager #BestKidEver #Benoah #MyNoah."
Entering your teenage years with a loving message from an SVU legend is seriously impressive, and if anyone deserves it, it's Buggle.
The "freshly-minted teenager" didn't leave his TV mom hanging, either. "Love you so much! Thank you ❤️," he commented under the heartwarming post. 
Happy Birthday, Ryan!
Watch Law & Order: Special Victims Unit Thursdays at 9/8c on NBC and the next day on Peacock.