NBC Insider Exclusive
Create a free profile to get unlimited access to exclusive show news, updates, and more!
Sign Up For Free to View
Everything That Happened to Rollins in Her Final Episode of Law & Order: SVU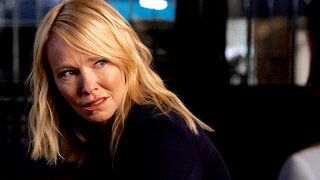 The midseason finale of Law & Order: Special Victims Unit was an emotional rollercoaster, culminating in many changes for longtime fan favorite Amanda Rollins (Kelli Giddish).
While many SVU episodes focus primarily on the law and order of it all, legal cases took the back-burner this time in favor of Rollins' exodus. We got two major life updates: 1) Rollins took the teaching position at Fordham, and 2) She and Sonny Carisi (Peter Scanavino) are married! 
The holiday episode begins with Carisi mysteriously asking his SVU colleagues to meet him in the courtroom, which they assume is related to the Olsen arraignment. Captain Benson (Mariska Hargitay) and company initially think everything is business as usual—until Carisi and Rollins surprise the SVU members with an intimate courthouse wedding ceremony.
"Carisi and I were talking, and we realized that marriage is a lot like a crime," Rollins tells them. "We have a motive, opportunity..."
"I figured all we needed were the witnesses," Carisi explains to his awe-stricken friends. 
Benson instantly starts to tear up as they gather around for the surprise wedding. The SVU is honored to watch as Rollins and Carisi, SVU's most iconic power couple, finally tie the knot. At the reception, Rollins and Carisi are applauded by the entire precinct. 
While at the reception, Benson's son, Noah, tells her something: that "Connor" wants to meet him! But who is Connor, exactly? Well, it's Noah's big brother. 
Reminder: Noah's family history is pretty complicated. Both his parents are dead, and he was born after his father sexually assaulted his mother. His grandmother is in prison for attempting to kidnap him when he was younger. Because of this, news of a biological brother hits Benson pretty hard.
We find out Connor is Noah's half-brother and is related to him on his father's side. Benson's SVU connections allow her to perform background checks on Connor and his family easily. When that comes back clean, she agrees to take Noah to visit Connor's family in the suburbs. 
Thankfully, Connor's family turns out to be a total delight, and the boys become good friends as soon as they start talking about video games. Benson and Connor's parents also hit it off as they share a pleasant dinner. When the boys continue to play into the night, Connor's parents offer to allow Noah to stay the night. Benson agrees and leaves to check into the suburbs hotel she previously booked for herself and Noah. 
Cut to Benson's hotel room. After getting out of the shower, Benson realizes the mirror conceals a camera inside. Meanwhile, Rollins gives Benson a call (to give her notice, presumably), but Benson starts talking about the camera and Connor's family. By the end of the call, Rollins fails to tell Benson she's leaving the SVU, but it's only a matter of time before it comes out. 
Rollins drives to visit Benson, and the detectives look into the hotel's camera situation. Rollins deliberately puts on lipstick in the mirror, and they soon find the lobby desk attendant watching the footage. The man is quickly arrested but admits the recordings were organized by his cousin. The only lead Rollins and Benson have is that the culprit is a local barfly, so they decide to make a girls' night out of their investigation. 
Benson and Rollins share a drink at the bar and quickly spot their guy. Flirting and sleuthing their way into a quick confession, Rollins and Benson arrest the man with the help of local authorities. Benson and Rollins celebrate the quick win by having a few glasses of boxed wine in Benson's hotel room, which rapidly transforms into a confessional booth. 
Benson raises her glass to toast Rollins' marriage and happiness. Then, Rollins flips the conversation and asks Benson when she'll allow herself to be happy with someone. Benson opens up about Stabler (Christopher Meloni)—revealing she isn't over him abruptly abandoning her. She shrugs the topic away, saying she'd prefer to focus on how thankful she is to have Rollins as a friend.
Rollins then abruptly decides to tell Benson she's leaving the SVU, and it's safe to say it could have been smoother for both parties. In fact, Benson doesn't even believe Rollins when she breaks the news.
"That's funny," Benson says, not comprehending Rollins' seriousness until it suddenly dawns on her.
"There's a job offer," Rollins explains. "To teach at Fordham."
Benson is bewildered. "And you're going to take it?" she says. 
"I just want to say, you taught me how to be a good detective," Rollins says, to which Benson replies, "Amanda, stop. I didn't teach you anything. You were already a good detective."
"You taught me how to love myself. How to let people in, like victims and Carisi and you," Rollins chokes out. "This is hard for me."
"This is hard for you?" Benson says.
"I made this choice," Rollins concludes. "Liv, I need you to be OK with it."
The news is a lot to take in for everyone, and Benson tells Rollins she needs a minute to process it. Rollins obliges and heads back to the city early the next day. 
The women apologize and clear the air the next day. Benson admits she's sad she won't be able to see Rollins at work each day, but Rollins assures her, "We're friends. That's not going to change. And I'm not going to disappear."
"I wouldn't let you if you tried," Benson says while choking back tears. "Look, I know you have to do this."
"I have to try," Rollins says before the two leading SVU ladies share an emotional hug. 
"Don't postpone joy," Benson tells Rollins, who says, "You, too."
Rollins then leaves Benson's office for the final time. Police officers and SVU members have gathered to applaud her time with the force. Rollins emotionally makes her rounds, hugging her soon-to-be former colleagues, with Benson proudly clapping for her friend. 
Law & Order: SVU returns Thursday, January 5. Watch on NBC Thursdays at 9/8c and next day on Peacock.