NBC Insider Exclusive
Create a free profile to get unlimited access to exclusive show news, updates, and more!
Sign Up For Free to View
The Heart-Stopping Law & Order: SVU Crossover Moments Fans Will Never Forget
Benson has crossed paths with many other franchises throughout SVU's 23 seasons.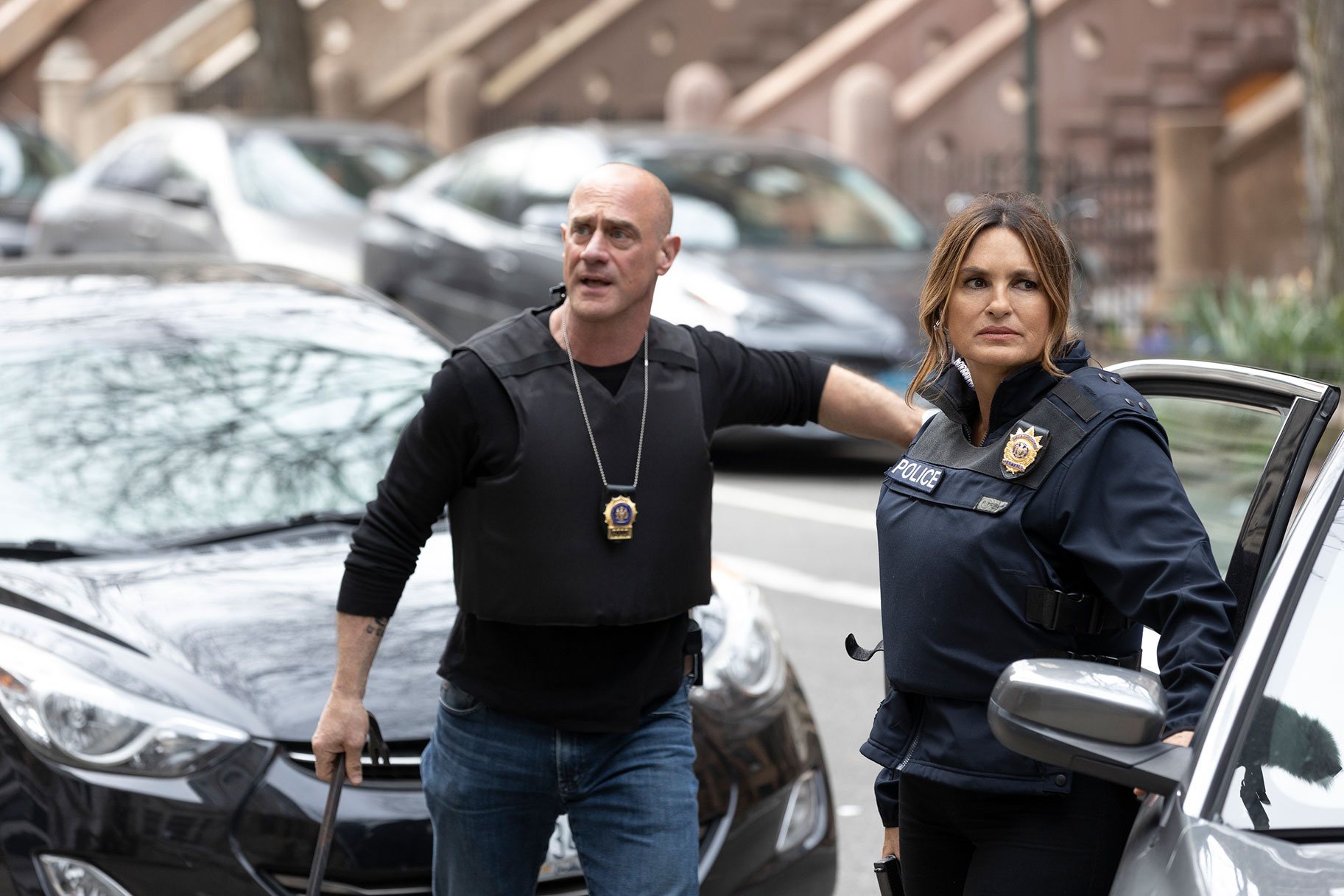 Law & Order: Special Victims Unit has become a cultural phenomenon for many reasons. One of those reasons? The crossover episodes. 
Over the years, Sergeant Olivia Benson (Mariska Hargitay) has crossed paths with many other characters within the Law & Order and One Chicago universes⁠. Whether she's helping out her friends in the Windy City or teaming up with her former partner, Elliot Stabler (Christopher Meloni), the crossover episodes are some of the most exciting for SVU fans. 
The most memorable Law & Order: SVU crossover episodes
A Chicago P.D., Chicago Fire, Law & Order: SVU power team
One of the most thrilling crossover moments for fans of Dick Wolf's equally-renowned One Chicago franchise was when three different shows combined to bust down a decades-old child pornography ring case. Benson helps the Chicago P.D. team after the group of firefighters from the CFD turn in incriminating evidence found during a house fire call. 
An homage to SVU's past in Organized Crime
Law & Order: Organized Crime is born from the love of SVU fan-favorite partners Benson and Stabler. Naturally, there are many great crossover moments during OC's first season, but one of the most intense episodes is when Benson leads an intervention for Stabler after the death of his wife. Benson is Stabler's most loyal friend, and Stabler's gratitude for her is palpable in this extremely well-acted episode.
A Law & Order: SVU and Law & Order Trial by Jury crossover
Law & Order: Trial by Jury Season 1, Episode 11 ("Day")
Another great SVU crossover moment occurred when Benson and Stabler got roped into an intense serial rapist case alongside the attorneys of Law & Order: Trial by Jury. Bradley Cooper guest stars as Jason Whitaker, a defense attorney tasked with representing a wealthy client accused of sexually assaulting illegal immigrants. 
The unfortunate Chicago P.D. and SVU reunion
A sad and nail-biting crossover occurs during Season 16 of SVU and Season 2 of Chicago P.D. after the Ted Bundy-inspired serial rapist Greg Yates kidnaps Chicago's P.D.'s Nadia (Stella Maeve). He kidnaps Nadia and tortures her as he drives to NYC, right into Benson's territory. Voight (Jason Beghe) travels to New York alongside Fin (Ice T) and Amaro (Danny Pino) to track down Nadia's location, but it's unfortunately too late.
Stabler gets real with Benson in Organized Crime
Shortly following the death of Stabler's wife during Organized Crime, Stabler gave Benson a letter that left SVU fans reeling. The letter's contents were not revealed, but Benson was upset after reading it. A season later, after Stabler is drugged during a chaotic undercover case, he arrives at Benson's apartment to finally talk about the infamous letter. The scene is a heavy one, and Stabler and Benson's relationship proves to be just as complex as it was during Stabler's 13 seasons on SVU.
Watch Law & Order: SVU on Peacock and NBC. The show returns Thursday, September 22 at 9/8c on NBC.