NBC Insider Exclusive
Create a free profile to get unlimited access to exclusive show news, updates, and more!
Sign Up For Free to View
Chris Meloni Reveals Why He's a 'Big Fan of Nudity'
And how he really feels about that "Zaddy" title.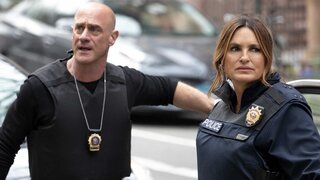 Some people have the honor of aging like fine wine, like actor Christopher Meloni. The Law & Order: Organized Crime star has caught the attention of fans old and young by earning the viral title of "Zaddy." We'll let you infer what that means.
In a People cover story, Meloni opened up about the second act of his career as he returns to the Law & Order franchise and how it feels to garner widespread sexual attention at 61. Meloni also revealed that he is a longtime aficionado of the nude and thinks more people should jump on that train. 
"Look, I am a big fan of nudity. I always have been. Always, since I was a child," Meloni reveals. Many a Meloni fan will recall his iconic Law & Order-inspired Peloton ad in which he works out (yoga, cardio, meditation, and strength training included) completely naked. Gently censored, the ad is as humorous as it is risqué, but Law & Order's resident "Zaddy" doesn't shy away from showing a little skin. 
"It's a sense of freedom," Meloni continues. "We're a little uptight in this country over that whole thing. How many nudist beaches do we have? Who doesn't like a good nudist beach?" Meloni raises his hand high and whispers, "I love them!"
And on that "Zaddy" title, Meloni says,  "It's a gas. It's fun. I don't know. Has anyone else been crowned 'Zaddy?' Once it's bestowed upon you, you have to just ride that horse as long as you can." 
Related: Mariska Hargitay's Viral Throwback Photo With Chris Meloni Isn't What It Seems
At 61, Meloni is happy to browse through the countless memes and tweets surrounding his Zaddydom, especially when it's his own family finding his fanbase fawning over him. "My wife, she's lovely, she gets it. Meaning she's like, 'Eh, whatever.' My kids, on the other hand, invariably once a month, it's 'Really? Really?'" Meloni says."But I think secretly in their hearts, they get it. It's cool because we all have a good goof with it... It's an honor."
Meloni boasts a decades-long acting career, but as he continues with Law & Order: OC, a new chapter is just beginning. "Age is a wondrous thing. You hope that with time you get a little wiser, get a little more patient and really come from a place of more maturity, which I translate to clarity and love," Meloni says. "Really just having an attitude of enjoying the ride. It's great. Are you kidding me? I'm 61 years old and a Zaddy. The lucky streak continues."
Watch Law & Order: Organized Crime on NBC Thursdays at 10/9c and the next day on Peacock.