NBC Insider Exclusive
Create a free profile to get unlimited access to exclusive show news, updates, and more!
Sign Up For Free to View
Elliot Stabler's Wife, Romances, and Relationship History on Law & Order
Love tends to take a backseat when arresting criminals and going undercover—but Stabler's love life is still worth discussing.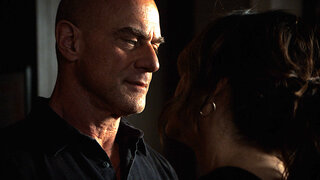 Romance may not be the first thing on Detective Stabler's (Christopher Meloni) mind while taking down criminals on Law & Order: Organized Crime, but fans can't get enough of this man's love life. 
Between his original tenure on Law & Order: SVU and his established OC set-up, Stabler tends to keep things professional, but there have definitely been moments of intimacy and flirtation from the cop.
Whether Stabler is flirting while undercover or full-on falling in love, Law & Order fans always root for their leading man regardless of how messy his love life can be. To look back at Stabler's relationship history on SVU and OC, read on.
Elliot Stabler's wife, Kathy Stabler
We met Elliot Stabler's wife, Kathy Stabler (Isabel Boyer Gillies), in Season 1. Stabler and Kathy started dating in high school and married when they were only 17, so they are bonafide childhood sweethearts. Between the two, they share five children, the youngest of which is born in Season 9 of SVU. Stabler and Kathy were married for over 30 years, so they naturally had some road bumps in their romantic journey.
The main issue between the pair was Stabler's commitment to the SVU. In Season 6, Stabler's overtime and short temper at home were enough to create friction between the couple, causing Kathy to move out of their home with sole custody of their children. Stabler eventually admits to Kathy that he cares about his family and job and couldn't stand the thought of losing either. The pair began to reconcile, and after a one-night stand, Kathy got pregnant with their fifth kid. Benson (Mariska Hargitay) even helped deliver the youngster after she and Kathy got into a car accident on the way to the doctor. It's one of the more dramatic moments on SVU and triggers the first Benson and Stabler hug.
Despite standing at divorce's doorstep, Stabler and Kathy worked on their issues and rebuilt their marriage. When Stabler quit the SVU, he moved to Italy with Kathy and his family. In the Law & Order: OC series premiere, Kathy and Stabler's relationship came to a tragic end after the couple visited NYC to attend an awards banquet for Benson. Kathy dies after she is mortally wounded in a car bombing intended to target Stabler. 
At the end of Season 3, Elliot Stabler's wife, Kathy, makes a return as a ghost, sending his life into a tailspin. He starts wearing his wedding ring again and faces the reality that maybe he hasn't fully faced the trauma of losing Kathy. 
Angela Wheatley
After the tragic events of the Law & Order: OC premiere, Stabler is quickly roped into the organized crime landscape that killed his wife. As a detective for the NYPD organized crime task force, Stabler meets the insidious crime boss Richard Wheatley, whose ex-wife also quickly comes across his radar. Enter Angela Wheatley (Tamara Taylor), Stabler's next love interest. 
Angela was a professor at Columbia University who begins playing a cat-and-mouse game with Stabler during OC Season 1. It was never clear whether or not Stabler was using Angela to get closer to Richard, but regardless, their sexual tension was palpable. Stabler and Angela even share a kiss, but their romantic potential is immediately shattered after he learns that she was the one to arrange the hit on Stabler that killed his wife. 
The twists didn't end there. Stabler arrested Angela and Richard for Kathy's murder and learned she only organized the hit after Richard told her Stabler killed her son. Angela didn't expect to fall for Stabler while seeking revenge, and Richard used this to his advantage while in custody. In one of the more jaw-dropping moments, Richard tells Angela that she isn't the love of Stabler's life despite everything she's done to seduce him. Even juicier, Richard clarifies that Kathy also wasn't Stabler's true love. Judging by Stabler's intense reaction to Richard's guesses, he wasn't far off, with many fans speculating Richard was saying Stabler is in love with...
... Olivia Benson?
OK Stabler and Benson have never dated, but there have been dozens of moments between the pair that show their partnership could potentially turn non-platonic in the future. The former partners and current friends have been the source of an entire Bensler fandom for decades. And in recent seasons of SVU and OC, both Stabler and Benson have been exploring their feelings for each other. Let's look at the evidence Benson and Stabler could maybe get serious at some point:
Stabler drunkenly admitted that he was in love with some mystery woman but never clarified a name. Stabler opened up in therapy about the guilt he feels for abandoning Benson for a decade. Benson revealed to Rollins that she feels paralyzed by all of the possibilities between the pair now that Kathy is out of the picture. And if all this unresolved sexual tension wasn't enough, things came to a head after Stabler tried to kiss Benson. 
In a truly shocking moment for SVU fans everywhere, Benson pulled back at the last moment and told Stabler that she wasn't ready for their relationship. Yet? Based on their steamy embrace and almost-kiss, it's clear that Benson and Stabler have gone into uncharted territory. Is Benson really Stabler's one true love? How will this moment impact their future friendship?
Find out by watching Law & Order: Organized Crime on NBC Thursdays at 10/9c and the next day on Peacock.