NBC Insider Exclusive
Create a free profile to get unlimited access to exclusive show news, updates, and more!
Sign Up For Free to View
Kathy, Stabler's Wife, Made a Surprising Return in the Latest Organized Crime
It was an episode packed with fascinating set-ups as Stabler distracted himself from his inner demons.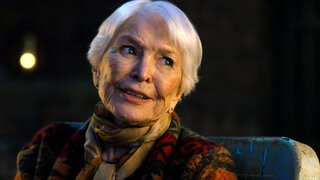 "The Pareto Principle" — the title of Law & Order: Organized Crime Season 3, Episode 20 — refers to the ideology that roughly 80% of consequences come from 20% of causes. Statistically speaking, there's usually some larger force at play when problems arise.
This idea played a role in OC's latest episode, which was a nail-biting watch from beginning to end as Detective Stabler (Christopher Meloni) struggled to connect puzzle pieces to form a mind-boggling big picture. Here's what happened: 
Law & Order: Organized Crime Season 3, Episode 20 recap
The Control Bureau is called in by the Feds after a woman finds her dead husband's head in her dryer. The victim, an unemployed man named Frank, was secretly a member of an elaborate bank robbery operation, and the murderer is clearly trying to send a message. After chatting with the detectives, Frank's wife gives them a tip for one of his friends, Lloyd.
Stabler tracks down Lloyd and finds him lugging around a million dollars in a duffel bag. While in the interrogation room, Lloyd acts confused by the ordeal, saying he was unaware that Frank was even murdered and is simply holding the money for his friend. Attempting to make conversation and distract Stabler from this case, Lloyd asks Stabler if he's married. 
The question instantly strikes a cord, but Stabler shrugs it off while telling Lloyd his wife passed away. It's been a while since Kathy (Isabel Gillies) has come up, but it's an infinitely sore subject for Stabler. 
Stabler gains his ace in a hole after a photo surfaces of Lloyd's work vehicle outside the bank Frank robbed the day he was murdered. Plus, the Feds found the murder weapon in Lloyd's girlfriend's truck, so he's toast.
Stabler can always get the perp to crack, and Lloyd finally confesses that he hired someone to kill Frank. Better yet, Detective Jet Slootmaekers (Ainsley Seiger) successfully traced DNA evidence found at the crime scene to a man named Junior Suarez, Lloyd'd hitman. Case closed, right?
Wrong. Stabler's entire case becomes mystifying after they realize Suarez has a rock-solid alibi. He was in prison on the night of the murder.
All eyes on Suarez
Sgt. Ayanna Bell (Danielle Moné Truitt) and Stabler visit Suarez in prison, who acts very pleased with his  lifestyle. They question him about Frank, and Suarez gives them nothing, telling them there must be a mistake with the DNA evidence because he's been in prison the entire time. The detectives then find out Suarez has been visited by his sister frequently in recent months. 
The OC Bureau's go-to undercover man Detective Bobby Reyes (Rick Gonzalez) visits Suarez's sister, a dentist, under the guise of a typical appointment. Reyes poses as a neighborhood friend of Suarez's and begins asking questions about his recent whereabouts. Suarez's sister reveals that Suarez is often granted furlough, which is why he's seen out of prison so frequently. Reyes ditches his undercover get-up and tells Suarez's sisters to dish details about his recent activity. She reveals Suarez gave $25,000 from his hits to help his sister's family. 
Meanwhile, Jet successfully connects Lloyd to Suarez. Suarez is a member of the BX9 gang and the cousin of one of Lloyd's coworkers. Law & Order: SVU fans will recognize that BX9 is the Bronx-based gang giving Benson (Mariska Hargitay) a massive headache recently, at one point even attacking the captain. 
The detectives realize they are dealing with more than just a calculated hit; they're looking at an entire criminal infrastructure built upon granting furlough to prisoners to execute murders. The person responsible for the murder-for-hire ring is Mike Pendergast, a cheap and calculating correctional officer who selects prisoners who enjoy the inmate life that simply want a small vacation from the cell. Pendergast's prisoners don't care about money; they do it for the respect gained and the free cigarettes he provides afterward. The team successfully arrests Pendergast and recovers all the stolen money, but the question of why Suarez was paid when all the other hired inmates were not is at the top of Stabler's mind. 
It all comes back to Kathy Stabler
Stabler heads home after a productive day and finds his mom, Bernadette Stabler (Ellen Burstyn), cooking up a delicious meal for her son. As her Alzheimer's worsens, Mama Bernie is staying with Stabler until they find the best retirement home. Stabler happily greets his mom and counts three plates laid out. When Stabler asks Bernie why she grabbed an extra plate, she flippantly says it's for Kathy.
Bernie instantly realizes she's made a mistake and apologizes profusely. Stabler reassures her that he feels Kathy is always with him, so it's not a problem. Their conversation is cut short by a call about Suarez being traced to a recent homicide near Frank's residence. Stabler wants to go check out the crime scene, and with his mom under his care, he reluctantly agrees to bring her along. 
RELATED: Surprise! Mariska Hargitay Reunited with This SVU Alum Who Was Tragically Killed Off
After arriving at the scene, Stabler lovingly insists that his mother stays in the car and doesn't leave. But while Stabler interviews the murder victim's angry neighbor, Bernie ditches Stabler's request and leaves the car, effectively joining Stabler's investigation. Stabler and Bernie check out the homicide scene, and Bernie notes that the woman's husband died when she was still very young, which may attribute to her neighbor's negative perceptions of her.
Bell finds a sleepy-eyed Stabler in the office on Saturday morning, and it's abundantly clear he is avoiding issues at home by throwing himself into work. Stabler fixates on the fact that while they can confirm with DNA evidence that Suarez is the murderer, they don't understand why he agreed to these hits. Stabler cites the Pareto Principle as his rhetoric, arguing that Suarez seems connected to something much bigger than the prison operation. 
Kathy returns 
But at the end of the day, it's a Major Crimes case now, so Stabler is putting his nose where it doesn't belong. Bell tells Stabler to go home, and he opens up about his mother's slip-up the night before. Bell essentially tells Stabler to stop running from his problems by going home, but he ignores her. If there's anything the stubborn Stabler is good at it's dodging his problems by dedicating himself to a case. 
It's been years since Kathy's death, and throughout this entire case, Stabler has been hearing echoes of their marriage and his trauma surrounding her murder. If this doesn't prove Stabler is haunted by Kathy's memory, what happens next does: He catches something in the corner of his eye while looking at crime scene photos. A woman in a hospital gown walks into the interrogation room and Stabler confusedly checks out who it is. And who does he find sitting in the box? None other than the ghostly figure of Kathy herself. 
RELATED: Diane Neal Played Another Character on SVU Before Casey Novak: Here's Who
Stabler is transfixed by this vision, and as the episode fades to black, we see Stabler finally come to terms with what he's been running from all episode. Stabler misses Kathy, and no matter how much he distracts himself from work, it's hard not having her there. Stabler's steel-tight walls are finally starting to tumble down, and fans can't wait to see what Kathy's shocking pop-in will mean for him moving forward.