NBC Insider Exclusive
Create a free profile to get unlimited access to exclusive show news, updates, and more!
Sign Up For Free to View
Mariska Hargitay Hints At a New Bensler Crossover Episode While Teasing Chris Meloni
The SVU star's latest Instagram post about Meloni held a major hint about a Benson/Stabler reunion.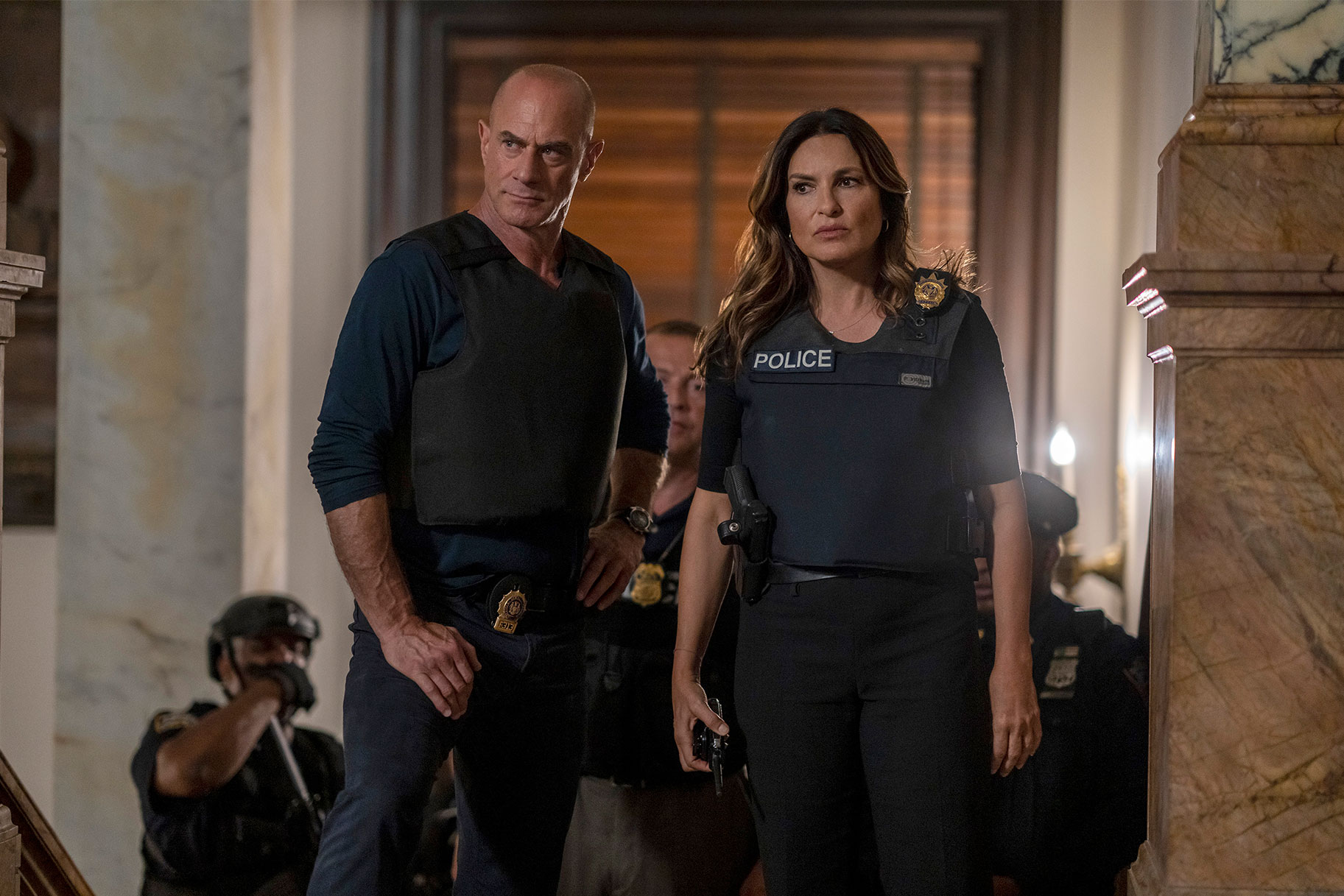 Law & Order: Special Victims Unit fans have a lot of love for the NBC nail-biter, which is partially thanks to the iconic bond between Olivia Benson (Mariska Hargitay) and Elliot Stabler (Christopher Meloni).
Now that Meloni has spearheaded the thrilling action of Law & Order: Organized Crime, Benson and Stabler are back in the same city seeking justice against horrific criminals. This has led to some explosive crossover moments between the former SVU partners, and we're not just talking about the criminal cases they've faced together. Fans always keep their eyes peeled for a Bensler reunion, and on April 12, Hargitay gifted Law & Order fans with an exciting update. 
Hargitay took to Instagram to post a hilarious BTS photo of Meloni standing in a window, dramatically staring down at Hargitay from above. Stabler looks slick as ever, even if it was a candid photo.
Hargitay, a big fan of a humorous hashtag, captioned the Instagram post: "Rapunzel, Rapunzel let down your hair… #WhatHair #SmirksForDays #KingOfTheCastle #ICanSeeMyMeloniFromHere #SpyingStabler #CrossoverComing #SVUOC #RoomWithAView."
Not only did Hargitay throw in a playful dig about Meloni's marvelous lack of locks, but she also confirmed what many eagle-eyed SVU fans have suspected. Benson and Stabler will reunite in an upcoming crossover episode! Meloni's IG posts with the SVU crew further validate this investigation.
Crossover episodes tend to be the lifeblood of every modern Law & Order fan, as each series has some captivating characters to care about. The excitement is only elevated by the ongoing (20+ years) tension between Stabler and Benson heating up on SVU and OC this season.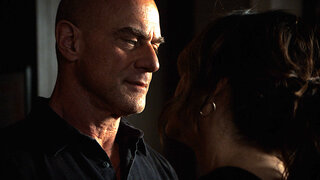 Fans want to know where they're headed next, especially after Stabler's most recent meet-up with Benson. Stabler visited Benson's apartment after a season of unnecessary distance and admitted he cared for her. Benson and Stabler shared a steamy embrace, leading Stabler to go in for a kiss, only for Benson to pull away at the last moment. Bensler fans are reeling with uncertainty after Benson told Stabler she wasn't ready for their relationship yet. 
"It was an interesting scene, a delicate scene, a difficult scene," Meloni revealed in a January interview on TODAY about the intimate Bensler scene. "Awkward, but that's all good. Because I think those were all elements that were part of the scene."
But with Hargitay's recent IG post, she has confirmed that Stabler and Benson will meet again. Will the detectives be tackling another harrowing case, or will they finally start interrogating each other about their hidden feelings? One time will tell, but Bensler fans will be there to find out.
Watch Law & Order: Special Victims Unit on NBC Thursdays at 9/8c and the next day on Peacock.