NBC Insider Exclusive
Create a free profile to get unlimited access to exclusive show news, updates, and more!
Sign Up For Free to View
Why Danielle Moné Truitt Is Skeptical of That Benson-Stabler Almost Kiss
Even Chris Meloni's Law & Order: Organized Crime co-star is weighing in on the Benson and Stabler chaos.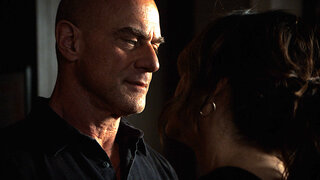 Life will never be the same after Elliot Stabler (Christopher Meloni) tried to kiss Olivia Benson (Mariska Hargitay) on Law & Order: Special Victims Unit. 
After years of playing "will-they-won't they," Stabler finally admitted his feelings for Benson. While the former partners embraced and almost locked lips, Benson pulled away at the last moment. Bensler fans have been reeling since the steamy SVU scene, with many wondering what this will mean for the future of their relationship. Will Benson and Stabler ever end up together, or will they remain platonic soulmates?
Law & Order: Organized Crime star Danielle Moné Truitt, who plays Sgt. Ayanna Bell, seems to be just as unsure of the future as fans are. As Stabler's OC ride-or-die, Truitt likely understands this drama more than anyone. 
People asked Truitt whether or not the longtime friends will end up together, and she was fairly apprehensive. "I don't know," she said. Just like the rest of us who are scratching our heads! 
Truitt continued, "Sometimes I feel sorry for the shippers because I'm, like, I don't know if they're taking you guys on a ride or what. For y'all's sake, I hope something happens with them."
"I think they tricked you guys last week," Truitt said before optimistically adding, "Hopefully one day."
On the Law & Order: OC side of the world, Stabler has opened up to his therapist about Benson and made strides toward writing a new chapter for himself. As Stabler attempts to straighten up his life, Truitt is the captain providing endless support. In Season 3, Truitt has been going through her own share of changes, and viewers are starting to learn more about her fascinating past.
"I'm really excited about more of her personal life and her personal history coming out," Truitt said. "They're doing a great job of really developing her. And so yeah, I'm excited. We have some really bad dudes to take down in the next couple episodes, so hopefully, everybody tunes in and takes the ride with us."
Watch Law & Order: Organized Crime on NBC Thursdays at 10/9c and the next day on Peacock.