NBC Insider Exclusive
Create a free profile to get unlimited access to exclusive show news, updates, and more!
Sign Up For Free to View
Who Is Duarte on Law & Order: SVU? Everything to Know About His Tragic Story
As Benson's time with the Bronx Gangs Unit comes to a close, learn more about the captain.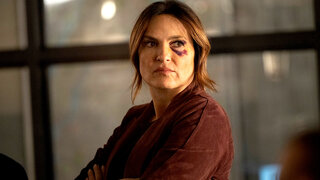 Throughout Season 24 of Law & Order: Special Victims Unit, Olivia Benson (Mariska Hargitay) has had her hands full going after the Bronx-based BX9 gang, sparking some fascinating character matchups.
Teaming up with the captain of the Bronx Gang Unit in the NYPD, Mike Duarte (Maurice Compte), Benson has been put in some life-threatening situations while seeking justice for victims of BX9's actions. Throughout this madness, Benson's concerns for SVU matters have frequently conflicted with Duarte's gang-related objectives, which sparks some tense scenes between the pair.
But at the end of the day, Duarte and Benson are flip-sides of the same coin as commanding forces, which made the end of Law & Order: SVU's Season 24, Episode 12, "Blood Out" all the more devastating. Let's rewind and look back at Duarte's tragic SVU story. 
Who is Duarte on Law & Order: SVU?
We meet Duarte in Season 24, Episode 2, "The One You Feed," when Benson brushed paths with the Bronx-based BX9 gang, who sexually assaulted women as part of their insidious initiation ritual. Benson began to work with Bronx Gangs Unit Captain Duarte, who approved the transfer of Detective Grace Muncy (Molly Burnett) to the Manhattan SVU when she proved exceptional with special victims. Benson and Duarte struggled to stay on the same page as they attempted to accomplish their objectives, but at the end of the day, they became close as colleagues. 
Benson's beef with the BX9 gang took center stage in "Jumped In" after she was attacked by gang members while walking home with her son. Benson and Duarte reunited as they accelerated their chase for BX9's gang leader, Oscar Papa, and their pursuit proved successful. In Episode 12, Oscar was standing trial for his crimes, but it was quickly clear that his arrest triggered disturbing consequences. And as the ring leader of the investigation, Duarte's life was placed in peril. 
After Duarte and Benson shared a drink and teased each other about their mutual compromises throughout their investigation, they parted ways as Duarte headed into a corner store. Just as fans started to feel like the BX9 gang was stopped, their happy ending was shattered. Three mysterious men entered right after Duarte, causing him to become suspicious. Duarte whispered for the clerk to call the cops, and as soon as he pulled out his firearm, the men attacked him with machetes.  
Mortally wounded by the attack, Duarte died during surgery shortly after the attack. After a riveting four-episode arc, Duarte tragically departed from SVU screens, but fans will never forget his endless dedication and part in putting away BX9's insidious leader. As the BX9 chapter closes, all eyes are on Benson as she faces the ripple effects of Duarte's death.
Watch Law & Order: SVU on NBC Thursdays at 9/8c and the next day on Peacock.