NBC Insider Exclusive
Create a free profile to get unlimited access to exclusive show news, updates, and more!
Sign Up For Free to View
Stabler and Benson Just Talked About Why He's Wearing His Wedding Ring Again
Benson and Stabler are back in close quarters, but Benson has some concerns.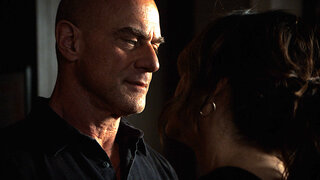 On Season 3, Episode 20 of Law & Order: Organized Crime, Detective Elliot Stabler (Christopher Meloni) saw the ghost of his late wife, Kathy. After this intense moment, viewers have been worried and wondering how he's holding up.
They got an update in Organized Crime Season 3, Episode 21 ("Shadowerk"), part of the two-week OC/SVU crossover event. In the episode, Olivia Benson (Mariska Hargitay) and Stabler combine heads to tackle an elaborate online revenge-for-hire ring. It's been a while since the former partners have connected; the last time they saw each other, Stabler quasi-revealed his feelings for Benson and went in for a kiss. But Benson turned away at the last moment, citing poor timing. 
Needless to say, the situation has changed a bit since their last run-in. Ghost sightings tend to do that! In an effort to clear the air, Benson and Stabler briefly chatted about the almost-kiss in SVU Season 24, Episode 21  ("Bad Things"). 
"You know, the last time we saw each other, that was a bad time for me," Benson admitted.
"Worse timing for me," Stabler teased.
"I know that you were just trying to make me feel safe," Benson guesses. "I think we both felt that."
"Just not the right moment," Stabler responds, which seems intentionally vague. 
If there's anything Benson and Stabler excel at, it's saying everything by saying very little!
"Shadowerk" picks up shortly after they decide to join professional forces. While looking at case files in the OC squad room, Benson comments on Stabler seemingly working the case too hard. She also spots a wedding ring on Stabler's finger.
"You're wearing your wedding ring again," Benson comments.
"I found it in a drawer," Stabler explains while instantly going on the defense. "And don't do that. You're doing that, with the eyes, with the head cock, and the dime-sized pupils."
"It's called empathy," Benson sweetly reminds him. 
Realizing he's talking to the person he trusts most in the world, Stabler finally comes clean about why he's been working so hard. Stabler admits he saw Kathy wearing a hospital gown in the interrogation room waiting to be questioned. Benson doesn't even bat an eye about the sighting, she simply wants to be there for Stabler. 
"Well, maybe she wanted to interrogate you," Benson theorizes. 
"I'm not losing my mind," Stabler says to Benson just as much as himself. 
"You know," Benson says. "If there's one thing that I've learned after all these years, it's that if we don't deal with our trauma, the world will." 
"I'm not a victim," Stabler counters.
"But you are a survivor," Benson insists. "And sometimes that's just as hard."
The question remains: Will Stabler's recent ghostly run-in with Kathy impact his previous feelings for Benson? The banter and flirtatious energy is still there, but has something shifted within the OC detective? The jury is still out on Benson and Stabler's romantic future, but may the record show: Benson will always be there for her old friend, no matter how spooky it might get.