NBC Insider Exclusive
Create a free profile to get unlimited access to exclusive show news, updates, and more!
Sign Up For Free to View
Feast Your Eyes on Detective Stabler's Sexiest Moments on Law & Order
As the Law & Order universe's resident "zaddy," Stabler is in no shortage of sexiness.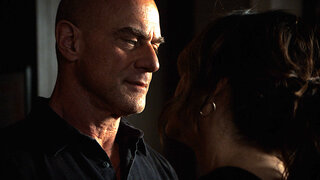 It's no secret that Detective Elliot Stabler (Christopher Meloni) is easy on the eyes.
The long-standing character from the Law & Order universe has become the franchise's resident "zaddy." It's an image Meloni has embraced on-screen as Stabler and off-screen, too. (Please see: His Law & Order-inspired Peloton ad, done completely in the buff.) While Stabler tends to keep things professional, numerous scenes in SVU and OC have captured the detective in a romantic and sexy light, and fans can't get enough of those moments.
Here are a few of Stabler's most sultry scenes on Law & Order!
When Stabler couldn't help but be protective of Benson
Once upon a time in Season 1 of SVU, Stabler and Olivia Benson (Mariska Hargitay) were bright-eyed and bushy-tailed detectives in the Manhattan SVU, but their partnership quickly escalated into a friendship outside the confines of the squad room. In "Stalked," a perp became obsessed with Benson, causing Stabler to get nervous and go out of his way to give her a ride to work in the morning. When Benson pointed out that she wouldn't do the same for him, Stabler drank from her orange juice glass and argued she would. Is it confidence in grabbing the orange juice from her hands? Is it the concern? Stabler as Benson's bodyguard is endlessly attractive, and it comes out in full force in the Season 1 exchange.
The Bensler hug felt around the fanbase
Stabler prefers to keep a tight reign on his emotions, so any time viewers see the man express himself, it's a rewarding watch. And in Season 9's "Paternity," he made history by giving fans the first-ever Benson and Stabler hug. The partners tended to keep to their own space, but after Benson helped Stabler's wife deliver their baby while he was out of town, those walls came down. Stabler showed his friend his gratitude by pulling her in for an unexpected embrace. Benson's face at the end says it all!
Stabler's stripped-down undercover mission with Benson
Stabler took a case on the wild side in Season 10's "Wildlife," when he went undercover to investigate an illegal animal smuggling ring. But when Stabler and Benson were caught off guard by visiting gang members, the partners stripped down to trick the perps into thinking they were finishing up in the bedroom. 
Stabler's intense yet sultry date with Angela Wheatley
Flipping over to Stabler's Organized Crime ventures, things got pretty steamy between Stabler and Angela Wheatley in Season 1 of Law & Order: OC. Stabler and Angela had a cat-and-mouse relationship that was always fun to watch, and when Stabler invited her to a romantic candlelit dinner, fans were shocked when it was revealed to be a warning. While tenderly kissing Angela's hand, he told her he couldn't trust her, with his actions serving as an entertaining mind game against Angela's ex-husband, who was spying in the window outside. Angela and Stabler weren't long for the world, but their chemistry was electric. 
When Stabler tried to kiss Benson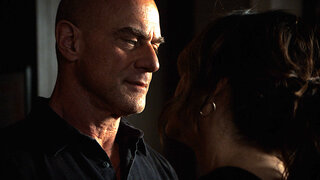 In Season 24's "Blood Out," Stabler finally came clean about his feelings for Benson, leading the former partners to share an intimate embrace. But before Stabler could land a kiss, Benson recoiled at the last moment, telling him she wasn't ready for that relationship yet. The scene is vulnerable, raw, and everything Bensler fans have waited decades to see to confirm their suspicions, even if there wasn't a kiss at the end. 
Honorable mention: Stabler's apology to Benson
One of the sexiest things in the world is being able to admit when you're wrong, and Stabler definitely screwed up by uprooting his NYC existence and high-tailing it to Europe without telling Benson first. But a decade later, Stabler returned and had some tender words for his former partner once they were alone. If the apology wasn't heart-wrenching enough, the moment he admitted to Benson that hearing her voice would have prevented him from leaving was life-changing for fans everywhere. SWOON!
Watch Law & Order: Organized Crime on NBC Thursdays at 10/9c and the next day on Peacock.