NBC Insider Exclusive
Create a free profile to get unlimited access to exclusive show news, updates, and more!
Sign Up For Free to View
We Finally Learned the Shocking Truth Behind Ayanna's Partner's Murder on Organized Crime
The latest episode of Law & Order: OC pushed the entire task force to their limit.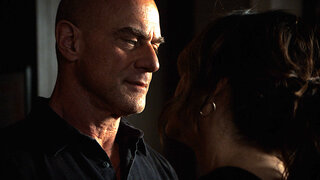 They say the bigger they are, the harder they fall—a concept the Law & Order: Organized Crime task force is all too familiar with in Season 3, Episode 14 ("All in the Game"). Detective Stabler (Christopher Meloni) had his hands full as the group attempted to put Eamon Murphy, an infamous crime boss, behind bars. But Murphy had some seriously horrible tricks up his sleeve. 
Before we explore that nail-biting ending of the Murphy storyline, let's rewind to see how we got here. In Episode 12 ("Partners in Crime"), we learned Ayanna Bell's (Danielle Moné Truitt) former partner was killed in the line of duty. But after the man put away for her partner's murder recounts his confession and is killed in prison, Bell realized her partner's death was orchestrated by an Irish crime boss, Eamon Murphy of The New Westies.
As the task force corralled behind Bell to see Murphy behind bars, they decided to convert Teddy Silas' nightclub into a venue for Murphy's illegal traffic to gain trust and gather evidence against him. We love when the task force goes on an undercover mission! 
While getting a bit too caught up in her undercover persona, Jet (Ainsley Seiger) began to develop feelings for one of Murphy's men, Seamus O'Meara, even going so far as kissing him and planning a vacation together. But as the lines between reality and Jet's fantasy blurred, her cover was blown, and Seamus threw her in the back of a car in a fit of fury. 
With Jet nowhere to be found, the task force quickly realizes they have a problem. Every OC fan knows Jet is the tracker of the task force, effortlessly pinpointing anyone's location on a map within seconds of sitting at her computer. But Jet's the one missing now, so it's all hands on deck for tracing and locating her before Seamus does something serious. 
Meanwhile, Seamus lets Jet out of the trunk after leading her to a dumping site at gunpoint. Jet manages to flirt her way into escaping Seamus' clutches and hide, but she reveals her location after Seamus threatens to shoot himself. Seamus knows that he has provided too much evidence for the cops, so Murphy is bound to seek revenge at some point anyway. Jet tells him that if he cooperates with their investigation, they can protect him. Right on time, the task force arrives, and Seamus attempts to kill himself via a police shoot-out, but he survives his injuries. 
Stabler visits Seamus in the hospital and attempts to gain insight into why he did what he did. While searching Seamus' hotel room for clues of Jet's whereabouts, the task force discovered the same gun that was used to kill Bell's partner, which traces the murder to Seamus. But Stabler knows the gun isn't Seamus', and he was correct. It belongs to Murphy. Seamus admits that he kept the gun as a piece of insurance in case he ever got caught in a pickle, telling Stabler it was Murphy's preferred weapon for years. So we officially have the murder weapon, which is enough for Bell and the force to go after Murphy. 
As all this action is happening, Teddy takes advantage of everyone looking the other way to run from the cops and Murphy's men, who have now realized the nightclub was an undercover operation. Murphy blocks Teddy's escape attempts, and as he goes to torture the man for his dealings, the task force arrives and arrests him. As Stabler reads Murphy his rights, he responds: "OK, boy. We'll see."
Stabler notes that Bell is feeling tense and offers to interrogate Murphy, but she insists on doing it. Bell and Stabler bring Murphy into the box, and despite sharing that they can confidently connect Murphy to a cop's murder, he is cool as a cucumber. 
"You spent your whole life getting out of rooms like this," Bell tells him. "But not today. We got you. You're done."
"Not until I have my phone call," Murphy coldly responds. 
And sure enough, the next day, their investigation is seized by the FBI. Stabler and Bell learn that Murphy is a protected informant for the FBI, which is why he has been getting off for his crimes. The FBI values his information more than they value putting him away for Bell's partner's murder. Bell is destroyed by this development and is only further infuriated after Murphy calls her to tease her for her efforts.
Bell doesn't take that phone call too well. She grabs a gun and leaves the office in a huff, and Stabler notes her stressed disposition. Bell visits Murphy at his HQ and demands that he give back her partner's ring. After he requests Bell to beg for it and shares her partner begged for his life, she points a gun to his head. But right before she pulls the trigger, Stabler shows up. Stabler helps talk Bell down, because, hey, he's been there, and they leave.
Stabler helps comfort Bell in the car, and they reflect on the unfair course of events. Going after Murphy is futile, and there is little they can do about it, forcing the group to move on from their investigation. Meanwhile, Seamus is killed in the hospital after being murdered by Murphy's associates. 
The next day, Murphy breaks the news to Jet about Seamus' murder, which has been brushed under the rug as a simple prison fight. Jet and Bell are in a similar boat, both forced to move on from an investigation that didn't close properly after losing people they cared about.
"So that's it?" a heartbroken Jet asks. "It all just goes away?"
"We did our job," Bell says, also feeling some type of way. "It's all we can do." 
"Seamus died for nothing!" Jet protests.
"O'Meara proved that Murphy killed my partner," Bell reminds her. "That is everything."
"No one is ever going to know that," Jet challenges.
"We do."
"And you're telling me that's enough for you?" Jet asks. 
"No," Bell concludes. "I'm telling you it has to be."
Cut to Murphy strolling in the park with his dog. Stabler follows him from close behind, and Murphy stops to call him out. Murphy teases Stabler for his extravagant efforts to take him down when all it took was one phone call to the FBI to make it stop. Murphy tells Stabler to remember the power he has over the police, but Stabler responds with maybe one of his most badass monologues in OC history.
"You'd be smart not to forget that one day, that won't be true. One day, you won't have that protection. And then you know what's going to happen to you," Stabler explains. "The only question is who's gonna' do it. Scumbag like you, it could be anyone. Even me. Watch your back."
Stabler walks away as Murphy stands dumbfounded by his haunting threat. The task force's investigation may have been halted, and Bell and Jet's paths toward justice were more personal than they thought, but Stabler's threats ensure Murphy won't leave this ordeal unscathed. Murphy may be protected now but not forever, and when his days of immunity are over... Stabler is waiting.
Watch Law & Order: Organized Crime on NBC Thursdays at 10/9c and the next day on Peacock.