NBC Insider Exclusive
Create a free profile to get unlimited access to exclusive show news, updates, and more!
Sign Up For Free to View
Rollins and Stabler Just Reunited for an Organized Crime-SVU Crossover Moment
We love when the OC Unit and SVU work together.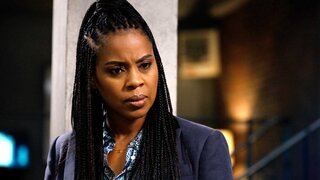 Crossover moments are always thrilling on Law & Order: Organized Crime, especially when Law & Order: Special Victims Unit's Amanda Rollins (Kelli Giddish) rolls up on the scene. 
In Episode 5, "Behind Blue Eyes," a woman and her teenage daughter are robbed and sexually assaulted in their home by a group of NYPD officers. NYC's SVU is quickly contacted, with Detective Rollins on the case. Due to the whole cop detail, Rollins gives Detective Elliot Stabler (Christopher Meloni) a call to see if he knows anything, as the go-to guy for corrupt cops. Rollins and Stabler visit the hospital and talk to the recovering mother and daughter but get little info due to the gang's use of masks and lack of badges. The OC Unit and SVU's only lead? The leader has bright blue eyes.   
After speaking to the brother of the assaulted family, the OC Unit realizes a gang is pretending to be cops. Known amongst its members as Robinhood, the gang poses as police officers to carry out their insidious agenda, including robbery, rape, and murder. Led by a mysterious man named Vaughn (with a pair of piercing blues), the gang targets drug dealers to prevent the victims from providing information about the robbery and attacks. "We steal from the rich and give to ourselves," Vaughn tells his childhood friend and recruit, Dante.
Mind you: The episode begins with Stabler wrestling over lingering emotions surrounding the corrupt cops he dealt with at the end of Season 2. The Robinhood gang pokes at the tension between the public and the police, which Stabler has already been dealing with lately. It's all hands on deck for this case, so Rollins and Stabler teaming up comes in clutch. 
By finding gun shell casings and cross-referencing the gunshot reports with reported rapes, the SVU and OC Unit work together to track down any lead to the Robinhood gang. Meanwhile, Dante is brought along for another Robinhood raid and quickly realizes that Vaughn has sinister plans for the home's women (this isn't what he signed up for). After Dante accidentally reveals Vaughn's name in front of the woman, Vaughn shoots and kills her instantly. 
The OC Unit finds a Robinhood member's blood at the murder scene, a man known as Manny Rivera, quickening their pace on the gang's trail. Rollins and Stabler visit the survivors in the hospital to attempt to get identification. While the mother struggles to remember faces, the daughter identifies Manny as her rapist. 
Meanwhile, Detective Jet Slootmaekers (Ainsley Seiger) stalks Manny on social media and learns he'll be at an underground speakeasy that night. Stabler instructs Jet and Detective Whelan (Brent Antonello) to go undercover to see who else might be in Manny's network. Jet pulls out her flirtatious undercover persona while meeting Manny and Dante and manages to sync Manny's cell phone to her own, giving the OC Unit the lead they need to head to the top of Robinhood. 
Using Manny's phone, the OC Unit learns that Robinhood is going for "one last hit." The team head to the house to halt the raid, with ally police crossfire quickly leading to chaotic confusion. Amid the shootout, Dante is shot and abandoned by his "brotherhood." Detective Reyes (Rick Gonzalez) and Dante have a moment of recognition before he succumbs to his injuries. They don't seem like strangers! 
When Sgt. Ayanna Bell (Danielle Moné Truitt) and Stabler try to get Manny to talk in the interrogation room, he is tight-lipped and insists on a lawyer. In the hospital, Reyes visits Dante to wait for him to wake up. Bell finds him there, and Reyes shows Bell a photo of four children. He then points out Dante and Manny, two of his former foster siblings. Reyes points out the fourth foster sibling, a kid with bright blue eyes, as Vaughn Davis. "What happened in that house...I think it's why he's doing this," Reyes admits. 
"What happened in that house?" Bell asks. Many Law & Order: OC fans are reeling with questions after that nail-biting conclusion. Will the OC Unit be able to take down Robinhood? What did happen to Reyes inside that house? How will Stabler continue to process the paranoia against other cops?
Get answers to these burning questions by watching Law & Order: Organized Crime on NBC Thursdays at 10/9c and the next day on Peacock