NBC Insider Exclusive
Create a free profile to get unlimited access to exclusive show news, updates, and more!
Sign Up For Free to View
The Top Questions We Have Going Into Season 3 of Law & Order: Organized Crime
Season 3 premieres Thursday, September 22 at 9/8c on NBC.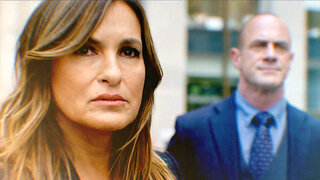 Law & Order: Organized Crime raises the stakes for putting the villains behind bars, as Elliot Stabler (Christopher Meloni) and the Organized Crime Unit race against the clock to see justice served. 
Season 2 was thrilling, packed with insidious criminal masterminds and quick-footed maneuvers by Stabler to bring down the Mercy Killers and Brotherhood crime organizations. Fueled by his need to avenge his wife's murder, Stabler goes undercover again and again to disband these horrific groups from the inside.
Now that Season 3 is quickly approaching, Organized Crime viewers are curious about what's in store — with many lingering questions from Season 2. Ahead of the three-hour Law & Order Premiere Event coming in September, let's explore a few of the biggest questions we have going into Law & Order: Organized Crime Season 3. 
Who killed Preston Webb?
The main objective for the Organized Crime Unit throughout Season 2 was to disband The Brotherhood and Mercy Killers crime organizations. They accomplish their task, but not without Stabler taking a few bullets to the chest with a bulletproof vest in the process. While Stabler indicts many members of The Brotherhood, the Mercy Killers becomes more complicated after their leader, Preston Webb, is found murdered. So who killed our bad guy?
The first suspect is Webb's wife, Cassandra, who earlier ordered a hit on Stabler. The OC Unit suspects she was annoyed with waiting for Webb to make the correct calls. Except, Cassandra denies any involvement in her husband's murder, and seems quite distraught regarding the death. The murder charges are eventually downgraded as a result of a lack of evidence. 
So if Cassandra didn't kill Webb...who did? It seems a bit suspicious that the OC's undercover cop, Nova Riley (Nona Parker Johnson), tells her brother that she suddenly resigned from the NYPD at the same time Webb turns up dead. While undercover, Nova became very close to Webb, so it seems strange when she insists that "anyone" could have killed Webb right after turning in her badge. Law & Order: OC is no stranger to compromising police tactics, and Webb's death reeks of potential malpractice. 
Will Sgt. Ayanna Bell and her wife get back together?
Like Law & Order and Law & Order: SVU, Organized Crime often addresses the challenges faced by the characters in balancing stressful jobs with their personal lives. Throughout Season 2 of Organized Crime, fans watch as Sgt. Ayanna Bell (Danielle Moné Truitt) attempts to jump through these hurdles as her marriage and family life deteriorate with her frequent absence. 
It all comes to a head during the finale when Bell returns home to have a heart-to-heart with her wife only to discover her home empty. Bell's wife left her a note, explaining that their marriage wasn't working and she'd taken their son with her. The scene is gut-punching, with many OC fans concerned about the future of Bell's well-being and her family. Many fans are hoping for a rekindling of some kind, and based on Stabler's previous split with Kathy during his SVU run, fans have their fingers crossed.
Is Richard Wheatley still alive?
The main antagonist during Season 1 and the majority of Season 2 of Organized Crime is the insidious crime boss Richard Wheatley (Dylan McDermott), who also happens to be responsible for the death of Stabler's wife. After being released from prison for a lack of evidence, Richard, with the help of his ex-wife and getaway driver, Angela (Tamara Taylor), organized a massive cyber attack on NYC after cutting off the city's power supply. The OC Unit restores power, leading Richard and Angela to flee the city while being pursued by Stabler and authorities. It's an action-packed end to the simmer that is Wheatley's hold on Stabler, which only ends after Angela decides to drive their car off a cliff. 
The chain of events might seem like the perfect ending to the Wheatley's plot line, but any avid Law & Order fan is likely suspicious about what this means for the future. While Angela's body is found, Richard's body is left undiscovered. Sgt. Bell explains, "Nobody thinks it's remotely possible he could still be alive." Stabler does not appear as confident, and without a confirmed body in a morgue, many fans are also wondering if Richard will make a dramatic return to Organized Crime screens. 
Will there be new members of the Organized Crime Unit?
By the end of Season 2, the OC is led by Sgt. Bell and Detective Stabler, cyber sleuth Detective Jet Slootmaekers (Ainsley Seiger), and a rotating cast of assisting detectives. Based on where we ended, the current OC Unit set-up lends itself easily to the inclusion of a few new faces on the team. According to Deadline, actors Rick Gonzalez and Brent Antonello will join the Organized Crime cast as NYPD detectives assigned to the OC Unit. What new group dynamics will come forth? Which criminal masterminds will the Organized Crime Unit tackle now that their ranks are growing? Only time will tell, but Organized Crimes fans are thrilled to find out. 
Season 3 of Law & Order: Organized Crime premieres Thursday, September 22 at 9/8c on NBC and next day on Peacock as part of the three-hour Law & Order Premiere Event.