NBC Insider Exclusive
Create a free profile to get unlimited access to exclusive show news, updates, and more!
Sign Up For Free to View
Christopher Meloni and His Wife, Sherman, Have the Best Relationship
With 27 years of marriage under his belt, Meloni has met his ultimate match.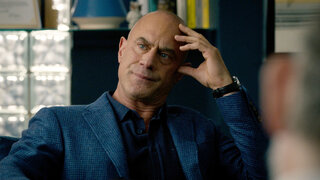 While many Law & Order: Organized Crime fans are buzzing about the romantic tension between Elliot Stabler (Christopher Meloni) and Law & Order: SVU's Olivia Benson (Mariska Hargitay), it's no secret that Meloni has a totally fulfilling love life off-screen. 
The woman who has stood next to Christopher Meloni from the start is his loving wife, Doris Sherman Williams (she prefers to go by Sherman). Meloni, of course, has been throwing himself into the Law & Order chaos for many years, and Sherman has been there cheering him on.
Sherman and Meloni have earned power couple status in every way. They've been married for 27 years, but their spark is as bright as ever. Read on to learn more about Meloni's phenomenal wife, Sherman. 
Meloni impressed Sherman on their first date
After bumping into each other a few times in L.A., Meloni finally managed to land a date with Sherman. But as we all know, if you want to be someone's lover, you've got to get with their friends (thanks, Spice Girls). And lucky for Meloni, he passed that test with flying colors. 
"On our first date, we went to three parties, given by three sets of my friends," Sherman recalled to Your Tango. "The first was in West Hollywood. Every guy there was gay. Chris passed with flying colors. Next, we went to a party given by Beverly Hills snootballs. Chris kept his manners in check and held his own. Then, we went to a costume designer's party in the Hills, where we drank beers from a tub on the porch. And I thought: I can take him anywhere." 
Sherman is no stranger to Hollywood
While many know Meloni for his on-screen credits in Law & Order and Oz, Sherman preferred to play a role in making the movie magic happen. Sherman was an art director and production designer for film and television for 14 years. She has quite an impressive IMDb profile, working in production design, art direction, and visual effects throughout the '80s and '90s. Her most notable projects include Night at the Golden Eagle, The Chase, Automatic, and Platoon. 
Sherman Williams and Chris Meloni got married in a medieval-themed ceremony
Meloni and Sherman dated for four years before getting married on July 1, 1995, in a beach-side ceremony in Malibu. But if you're imagining seashells and palm trees, think again. Meloni and Sherman didn't have a typical beach wedding because they embraced a medieval theme that could bring anyone out of the dark ages. According to Pioneer Woman, Meloni and Sherman drank from ornate goblets and celebrated their love in a truly timeless way.
Sherman is now an art director and talented painter
Since stepping away from Hollywood, Sherman has become an NYC-based artist and art director. You can find Sherman's artwork on her website, shermanmeloni.com, where she demonstrates her artistic talent with a lineup of jaw-dropping original oil portraits. 
In an interview with Architectural Digest in 2017, Meloni called himself his "wife's biggest fan." Sherman revealed that her process begins with photographing her subjects, as she "sees the sitter as art and strives to capture their unique essence - always with a twist." She flirts with photorealism with expert skill, and with each featured piece, Sherman continues to impress.
Sherman transformed their NYC apartment into a dream
At the beginning of their relationship, Meloni and Sherman hopped between NYC and L.A. until they finally settled in the Big Apple in a Manhattan apartment overlooking Central Park. As a prolific set designer from Hollywood, Sherman suddenly had a passion project on her hands. Sherman converted their glass-and-steel high-rise apartment into a cozy home worthy of an Architectural Digest feature in 2017 (check out those photos!). Sherman poured hours of dedication into the apartment to guarantee their new home aligned with their style and goals, successfully flipping "3,000 well-laid-out square feet" into a "modern but comfortable haven," according to Meloni's wife.
Sherman Williams and Chris Meloni share two children
Sherman and Meloni are the proud parents of two children, 21-year-old Sophia Meloni and 18-year-old Dante Meloni. In a 2014 interview with USA Today, Meloni opened up about his thoughts on parenting. "I think my kids would call me a little crazy. I'm very physical, very affectionate. I'm also very disciplined and focused on education. That's one thing that was instilled in me, one place in life where there's no compromise," Meloni revealed. "What works for me is empowering my kids. I remember not having any power when I was growing up. Power helps kids mature, and it requires critical thinking on their part. They feel engaged in a decision, which makes them feel engaged in the family process."
Meloni and Sherman revealed the secret to their successful marriage 
"It doesn't feel like 27 years. When the hell did that happen?" Meloni revealed to People in October 2022. "It's her patience with me, and I really mean that. She's allowed me to grow at my speed because she's always been more mature and more levelheaded in many ways. She paints, and I go in her studio, and it just makes me happy. We have her work all over the house. She wants to buy art, and I'm like, 'I don't want that. I want yours.'"
As for Sherman, she thinks the secret to their success is simple. "We just like each other," Sherman revealed to Your Tango. "Space, respect, trust, and freedom. We laugh a lot."
Watch Law & Order: Organized Crime on NBC Thursdays at 10/9c and the next day on Peacock.