NBC Insider Exclusive
Create a free profile to get unlimited access to exclusive show news, updates, and more!
Sign Up For Free to View
Chris Meloni Posts Pic of His 21-Year-Old Daughter—See Their Identical Blue Eyes
The daughter of the Law & Order: Organized Crime star resembles her father with one undeniable feature!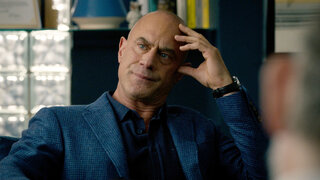 Chris Meloni has not only one but two kids who look just like him. 
While his 19-year-old son Dante may look exactly like his mini-me, there's no denying the resemblance between the actor and his daughter, Sophia, as well, especially in the eyes. In a candid photo carousel Meloni posted celebrating his wife's birthday, Dante is seen holding a phone above his head while his sister poses with him, wrapping her arm around his shoulder. In the photo, Sophia's eyes look exactly like her father's–both with a blue tint and a hint of green that seems to run in the Meloni family. How sweet! Scroll to the sixth photo in the carousel, below, to see. 
Better yet: In the same post, we get a close-up of Meloni, his wife (Sherman Williams), and the two kids dancing to "Funkytown." In the clip, the group sways to the rhythm before we catch a glimpse of dad Meloni looking straight into the camera.
"So…this happened. My gurl. Ageless. Timeless. Steppin' out with the young-uns to show em how it's done. #HBDbaby #Talkaboutit @sophiaemeloni @sherman.meloni @dante_melonii," Meloni captioned the post.
"I think my kids would call me a little crazy. I'm very physical, very affectionate. I'm also very disciplined and focused on education. That's one thing that was instilled in me, one place in life where there's no compromise," Meloni  said in a 2014 interview with USA Today about his family. "What works for me is empowering my kids. I remember not having any power when I was growing up. Power helps kids mature, and it requires critical thinking on their part. They feel engaged in a decision, which makes them feel engaged in the family process."
In a 2022 interview with People, the Law & Order: Organized Crime star described how both Sophia and Dante have contrasting personalities. "One is more of an old soul," he said. "I never used that term until they came out of the womb and I looked in their eyes. I was like, 'Holy cow, look at you. You're here to teach me.' As well as the other one, who's a young soul. It's ever-evolving and a complete fulfillment of my life." 
Watch Law & Order: Organized Crime on NBC Thursdays at 10/9c and next day on Peacock.