NBC Insider Exclusive
Create a free profile to get unlimited access to exclusive show news, updates, and more!
Sign Up For Free to View
Chris Meloni Revealed What He Smells Like After a Fan Tried to Guess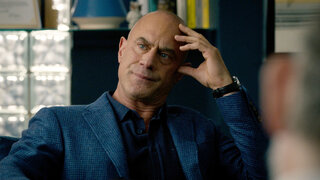 With so many years putting bad guys behind bars, it's no secret that  Elliot Stabler (Christopher Meloni) has become a beloved character in the Law & Order universe. Fans want to know everything about him: his workout routine, his diet—even what he smells like. 
Want proof? Look no further than to Twitter user @ginabuttrfly, who used the platform to muse, "@Chris_Meloni looks like he smells delicious." Many other fans started liking and commenting on the post in agreement.
Then, in a delightful surprise, Meloni responded to the tweet and gave his fans an accurate (read: funny) idea of his scent. 
According to Meloni himself, he smells like "musky pulled pork, gun powder, and butter-slathered biscuits. So I've been told #winningcombo." Yup, you read that correctly!
The actor is doubt kidding. But in any case, we love the idea of pork and biscuit fragrances being the secret to why Meloni is Law & Order's resident Zaddy.
Among the many biscuit-related comments, Twitter user @somuchwhatever responded, "@Chris_Meloni Rude to make us hungry when so many of us are already thirsty for ya." Another Twitter user took the moment to include a shot from the latest SVU sneak peek, in which Meloni and Olivia Benson (Mariska Hargitay) appear to be getting up close and personal. Like, really close. For Bensler fans everywhere, the next episodes of Organized Crime and Special Victims Unit can't come soon enough. 
"[Bell] can tell that [Benson and Stabler] love each other. I don't know if Bell is concerned about whether it's a platonic love or a romantic love," Danielle Moné Truitt, who plays Stabler's partner, Ayanna Bell, on Law & Order: Organized Crime, told TODAY in an interview. "But she can see the bond that they have, and I think she's gonna want whatever's best for Stabler at the end of the day. I think she's a supporter of his emotional health, his mental health, and hopefully they hook up and get together, and it's a great relationship. I think Bell would definitely be on board." 
Watch Law & Order: Organized Crime on NBC Thursdays at 10/9c and the next day on Peacock.