NBC Insider Exclusive
Create a free profile to get unlimited access to exclusive show news, updates, and more!
Sign Up For Free to View
Mariska Hargitay Reveals Why It's So Easy For Her to Act With Chris Meloni
These two have dynamic on-screen chemistry, and Hargitay's explaining how the magic happens.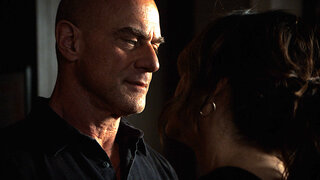 There are dozens, if not hundreds, of unforgettable Law & Order: Special Victims Unit episodes, but fans of Olivia Benson (Mariska Hargitay) and Elliot Stabler (Christopher Meloni) will always remember the emotional rollercoaster of Season 7's "Fault." And 18 years after its release, Hargitay is reflecting on the intense Bensler scene that has been engraved in fan hearts forever.
Hargitay stopped by TODAY to talk about directing SVU Season 24's "King of the Moon," with guest stars Bradley Whitford and Nancy Travis. Besides starring in the series, Hargitay has directed seven episodes of SVU, and her latest is bound to be a real treat. While chatting about the new episode, Hargitay had fun looking back at Season 7's "Fault."
Some context: "Fault" is fun because it shines a light on Benson and Stabler's complex relationship as partners and friends. After two children were kidnapped, Stabler failed to chase after the suspect because he saw Benson get hurt and rushed to her side instead. And later, Benson refused to shoot the suspect because he was holding Stabler at gunpoint. Both officers cared too much for the other to focus on putting away the criminal, jeopardizing their ability to remain partners. 
So, what does Hargitay remember about filming the intense final shoot-out in "Fault?" How magical acting alongside Meloni has become throughout their established tenure on the Law & Order franchise.
"Listen, the gift of acting with Chris is that because we work together so much and for so long, everything was earned," Hargitay reveals. "And therefore it was kind of effortless, in that we had been working together and we've been through so much together. So all because he's such a brilliant actor, all I have to do is look at his eyes, and I'm sort of immediately there."
With a friendship that spans decades, it's no secret that Hargitay is one of Meloni's biggest cheerleaders, and vice-versa. "He's such an incredible truth-teller," Hargitay adds. "But those were fun days, those were such joyful and creative fun times. Safe and challenging and everything you want your job and acting to be."
There's a reason "Fault" has earned a space in the SVU pantheon of most nail-biting episodes ever, with Benson and Stabler's dynamic friendship at the forefront. Hargitay and Meloni have an on-screen chemistry that can't be beaten, and it's led the pair to become two of the greatest detectives in television history. We can't fault them for that! 
Watch Law & Order: Special Victims Unit Thursdays at 9/8c on NBC and the next day on Peacock.