NBC Insider Exclusive
Create a free profile to get unlimited access to exclusive show news, updates, and more!
Sign Up For Free to View
Chris Meloni's Throwback Burger King and McDonald's Commercials Are Wild
"You got to be quite an actor to go from a Burger King commercial to a McDonald's," Seth Meyers teased the Law & Order: Organized Crime actor.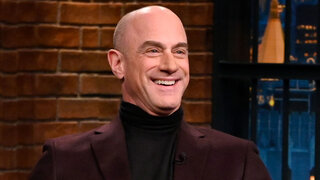 Every actor has to start somewhere, and for Law & Order: Organized Crime's Christopher Meloni, that place was '90s fast food commercials.
Meloni stopped by Late Night With Seth Meyers to chat about recent celebrations with the his family, his time as Elliot Stabler, and, in a surprise twist, his early commercial work. To those more familiar with Meloni's roles in Wet Hot American Summer, Law & Order, Oz, or even his more recent risqué Peloton ad, these '90s commercials are quite a blast from the past. It's a tough pill to swallow, but, yes, there was a time when Benson (Mariska Hargitay) and Stabler were not yet partners. It seems hard to believe, we know, but Meloni actually got his start earning residual checks from commercials—most notably for McDonald's and Burger King.
"I feel like these are Law & Order fans, but I was a fan of your early commercial work," Meyers joked to Meloni during the segment. 
"Yeah, this is what got me out of the bars," Meloni revealed. "Not from drinking, but from being a bouncer and a bartender."
"You did both Burger King and McDonald's," Meyers said.
"Correct," Meloni confirmed, adding that he has been in "over 50 commercials" throughout his career. But Meyers wasn't joking when he said Meloni's advertisement work is a special treat, which he showcased to the Late Night audience with throwback clips of Meloni's fast food projects.
In a commercial for Burger King hailing directly from the 90s, Meloni bites into a juicy sandwich while smiling enthusiastically for the camera. And boy, is he chomping. While the commercial is straightforward (advertising the "Yumbo, the hot ham and cheese sandwich!"), Meloni reveals to Meyers that getting camera-ready was quite the task. 
"Great sh-t," Meloni jokes. "That's talent!"
Meloni then told a behind-the-scenes tale of the Burger King commercial, when the producer was disturbed by the state of Meloni's hands, demanding the young actor get a manicure. Having never received a manicure, Meloni was at a loss when the nail technician asked if he wanted nail polish. "So I got a polish," Meloni admitted. "And the producer hit the roof, he went nuts on me." But OC fans love a polished king!
"A lot of people forget about the Burger Wars, but in this era, you got to be quite an actor to go from a Burger King commercial to a McDonald's," Meyers explained before showing the audience a clip of Meloni's McDonald days.
The spot shows a young man and woman on a date, chatting about what they'll have for dinner that night. "Look, if you want to go out with me, we will not be going to any restaurant which refers to itself as a Bistro, Casa, or Amazon," a younger Meloni tells the woman. "We will be going to McDonald's." 
"There you are on a date insisting to a woman that you will only be going to McDonald's," Meyers teased.
"Laying down the law," Meloni mused, before playfully adding, "Women like strong men."
Watch Law & Order: Organized Crime on NBC Thursdays at 10/9c and the next day on Peacock.