NBC Insider Exclusive
Create a free profile to get unlimited access to exclusive show news, updates, and more!
Sign Up For Free to View
The Organized Crime Cast Celebrated the End of Filming by Taking Some Silly Pics
It's always fun to see Meloni goof around after playing the endlessly stoic Stabler.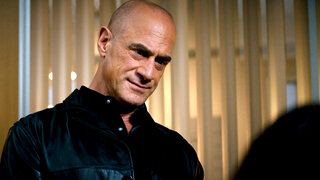 After many shocking twists and emotional turns, filming for Season 3 of Law & Order: Organized Crime has come to an end. The fate of Detective Stabler (Christopher Meloni) and the dedicated Control Bureau has been settled, and fans can't wait to see how it shakes out.
After finishing up on set for the final episodes of Law & Order: OC, Meloni took to Instagram to post an adorable slideshow of selfies with the cast. Meloni and Danielle Moné Truitt, who plays the passionate Sgt. Ayanna Bell, looks so cute cheesing in honor of another landmark season.
Of course, once Meloni and Truitt got a lovely photo together, they had to get a silly take. And in the last slideshow pic, Meloni beams with joy alongside many members of the OC crew. It takes a village to make the Law & Order magic happen! 
Meloni captioned the sweet IG post, "Goodbye OC season 3. #Love #Craziness #Camaraderie Until next time @daniellemonetruitt @shespokerebecca and everyone connected with the show."
The OC selfies garnered dozens of comments from fans congratulating Meloni on another nail-biting season. One person replied, "Love you, the crew and allllll the craziness! Thank you for all the work you have done bringing us such a damn good season! Here's to Season 4!"
The touching IG post also caught the attention of former OC actress Tamara Taylor, who played Stabler's fling-turned-foe Angela Wheatley in the first two seasons. "Congrats on another badass season in the can!!! 👏🏽👏🏽👏🏽" Taylor commented.
In the next episode of Organized Crime (out May 11), we'll get a visit from an SVU fan favorite, the beloved Amanda Rollins (Kelli Giddish). Rollins left the SVU at the end of 2022 after landing a job as an adjunct professor of criminal behavior at Fordham University. She also finally tied the knot with ADA Carisi (Peter Scanavino)!
The full episode synopsis teases, "When DNA from an SVU rape investigation connects to an OCCB unsolved murder, Stabler and Benson uncover a revenge-for-hire scheme on the dark web.  While Bell and Jet follow the money trail to expose the website's anonymous creator, Stabler asks Professor Rollins for help with a key clue."