NBC Insider Exclusive
Create a free profile to get unlimited access to exclusive show news, updates, and more!
Sign Up For Free to View
This New Chicago P.D. Actor Played 6 Different People in the Law & Order Franchise
Kevin's dad looks familiar for a reason.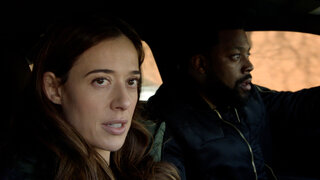 Chicago P.D. Season 10 dove deeper into Officer Kevin Atwater's (LaRoyce Hawkins) backstory with Episode 19's "The Bleed Valve." In this episode, fans were treated to an intense Atwater-centric hour that marked the return of Lew, played by Erik LaRay Harvey. (Law & Order fans will most likely recognize him, but we'll get to that later.)
We first met Lew in Season 10, Episode 11's "Long Lost." Little was known about Atwater's family before this season aside from the fact that both his parents were absent for the majority of his life. He was left to be the legal guardian for his younger siblings, Vinessa and Jordan.
So, what have we learned so far about Lew and why he's back in Chicago? Read more to find out.
What happened to Kevin's dad on Chicago P.D.?
Atwater finds out Lew is out of prison and on parole when he sees him attending a funeral he's staking out with Burgess (Marina Squerciati) in "Long Lost." The sighting marks the first time Atwater has seen his father in years. While monitoring the funeral, a shootout takes place, and the pastor is killed. In the midst of their investigation they discover that Lew is a key witness and can help them ID the shooter.
Lew proves to be of use to the Intelligence Unit's investigation, which forces Kevin to confront his issues with his father. By the end of the episode, he finally finds out why his dad was arrested. Lew confesses that the family needed money, so he acted as a lookout for a robbery. The job went wrong and he refused to snitch to the police, which resulted in his arrest. Kevin then asks why Lew cut off communication with him and didn't add his name on his visitor's list. Lew says it was because he didn't want his son to see him in prison.
Who plays Kevin's dad, Lew, on Chicago P.D.?
The role of Lew is played by actor Erik LaRay Harvey. Harvey currently stars in Godfather of Harlem, but you also might recognize him from Luke Cage. Another fun fact? The actor is no stranger to the Dick Wolf universe. It turns out that he's played a whopping six different characters across six episodes in the Law & Order franchise.
It began in 1994 for Season 5 of Law & Order as a character named Marty Pine. He returned four years later in Season 8 as Officer Anthony Loomis. Then, for Season 5 of Law & Order: Criminal Intent, he played the deputy warden in Episode 3's "Prisoner". Finally, for SVU, he appeared in Seasons 5, 14, and most recently in 23. He portrayed Jax Bell, the commissioner and co-owner of the FWO who oversaw the public coming out of fighter Tommy Baker in Episode 12's "Tommy Baker's Hardest Fight." Jax also helped the team's investigation (led by Mariska Hargitay's Benson) into Baker's sexual assault.