NBC Insider Exclusive
Create a free profile to get unlimited access to exclusive show news, updates, and more!
Sign Up For Free to View
LaRoyce Hawkins Shared the Cutest Pics of His 6-Year-Old Son's Birthday Party
The proud papa made some wonderful memories! Watch Chicago P.D. on NBC.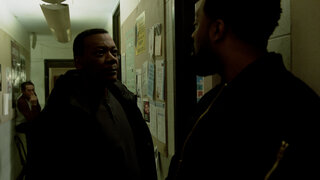 LaRoyce Hawkins's son Roman just turned 6! And what better way to celebrate than to have an epic birthday blast with his pop? 
On April 27, the Chicago P.D. star—who plays Officer Kevin Atwater—took to his official Instagram page to share pictures of him and his son on the special day. The series of snapshots showed the now 6-year-old having a great time at an exciting children's play-place venue. We catch a glimpse of little Roman standing in front of some balloons with his dad, dancing on some hoola hoops, playing on a swing, and jumping into some foam blocks. How cute!
Hawkins loves to celebrate milestones in his son's life. Last year, Hawkins also shared a sweet photo for Roman's fifth birthday. "He called me on his way to school this mornin, I asked him why his voice sounded so deep.. he said 'cause I'm 5 now Dad!'" he proudly captioned the post. 
Hawkins has been a dedicated father since day one, and is determined to be a good role model for his young son. 
"I hope to leave my son with a legacy that helps him recognize his light through his gifts, and I want to be an example of how you can utilize all your gifts," the actor told CoveChicago. "Fatherhood was a shift on its own. You wanna be the greatest example you can be to your son, especially as a father."
He continued about sacrifices he has made. "I knew there was gonna be some things that I had to change about myself and some growth that I had to embrace in order for me to be able to give him the same lesson one day with a straight face. I can't teach him anything I haven't gone through or accepted for myself. I see myself a lot in him, so when I tighten up and level up, I understand that it's not just for me and my career. I know it's for my legacy through my son."
Meanwhile, next week's episode of Chicago P.D., titled "The Bleed Valve", will be heavily focused on Atwater and mark the return of his father Lew (Erik Laray Harvey). We recently saw his character reconnecting with Lew after he was required to bring him in for an interrogation. But how will Atwater grapple with these heavy emotional stakes? 
To see what happens next it Atwater's life, be sure to watch Chicago P.D. on NBC Wednesdays at 10/9c and next day on Peacock.