NBC Insider Exclusive
Create a free profile to get unlimited access to exclusive show news, updates, and more!
Sign Up For Free to View
LaRoyce Hawkins Opens Up About Raising His Adorable 5-Year-Old Son
The actor has played officer Kevin Atwater since Season 1 of the NBC crime drama.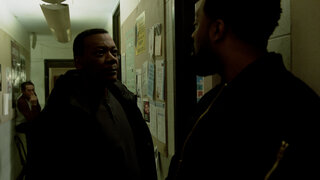 For the past nine years, we've watched LaRoyce Hawkins play officer Kevin Atwater on  Chicago P.D. But aside from his on-screen gig with the Intelligence Unit, there's one job he values above all else—and that's being a dad.
In a new campaign announcing his mentorship in the Chicago-based collective and creative agency, Cove, Hawkins opened up about fatherhood and raising his son, Roman.
"I hope to leave my son with a legacy that helps him recognize his light through his gifts, and I want to be an example of how you can utilize all your gifts," the actor said in a video that features some adorable photos of the 5-year-old. "Fatherhood was a shift on its own. You wanna be the greatest example you can be to your son, especially as a father."
He continued, "I knew there was gonna be some things that I had to change about myself and some growth that I had to embrace in order for me to be able to give him the same lesson one day with a straight face. I can't teach him anything I haven't gone through or accepted for myself. I see myself a lot in him, so when I tighten up and level up, I understand that it's not just for me and my career. I know it's for my legacy through my son."
Hawkins last shared a photo of Roman for his birthday in April 2022. "He called me on his way to school this mornin," he wrote in a caption. "I asked him why his voice sounded so deep.. he said 'cause I'm 5 now Dad!'" 
As for Hawkins' fictional counterpart Atwater, while Chicago P.D. Season 10 is currently on a three-week hiatus, the star previously told NBC Insider that there may be some exciting things to come later on this season.
"Atwater wants to be a detective, and we don't know if that's 'gonna happen, but we know it's only going to happen if he can prove himself to be a dynamic leader in situations similar to [the episode] 'Sympathetic Reflex,'" he said. "So I think we can expect more situations similar to that, and we'll just watch Atwater do his best to navigate those effectively. He has to prove to the unit, he has to prove to the 'Sarge, that he deserves that detective slot that's open, 'cause it's open."
Watch Chicago P.D. on NBC Wednesdays at 10/9c and next day on Peacock.