NBC Insider Exclusive
Create a free profile to get unlimited access to exclusive show news, updates, and more!
Sign Up For Free to View
LaRoyce Hawkins Explains Chicago P.D.'s Latest Emotional Ending
"Every empathetic bone is tested in Kevin's body," Hawkins tells NBC Insider about Season 10's "Sympathetic Reflex."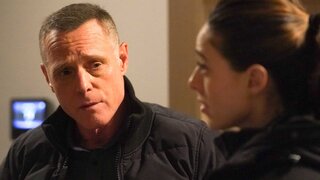 It's been a while since Chicago P.D. fans caught up with Kevin Atwater (LaRoyce Hawkins), but Season 10, Episode 6's "Sympathetic Reflex" more than made up for it.
All eyes were on Atwater after a perp chase went wrong and resulted in the accidental shooting death of a teen boy. It turned out the victim, Johnny, is the son of a high-profile white, wealthy family who accused Atwater of "beating and gunning down" their son. The kicker? The incident that showed the real story was caught on video by the prime suspect (the leader of a car-jacking ring). But he held the recording hostage in exchange for a lighter prison sentence. 
Suffice it to say, Atwater nearly lost his job. But with the help of the Investigative Unit, he was determined to find the video by following police protocol. In the end, his name was cleared. And unlike the questionable methods that led to Halstead's resignation earlier in the season, the officer was able to keep his tactics above board.
"I think Atwater knows more than anybody that he's the last one that can go off the books," Hawkins tells NBC Insider. "What makes him such a dynamic character to pay attention to is how he does find creative ways to stay on book, but still do what needs to be done. I think he's an example of how it's not impossible, it's not easy, but it's not impossible. In this episode we watch Atwater find ways out of no way. I think empathy wins at the end of the episode, which is a beautiful thing."
"Sympathetic Reflex" closes with Atwater going to Johnny's parents' house and telling his mother about his final moments. And though Johnny didn't get to finish his last sentence, Atwater guesses what it was: "I was just...trying to help." The final scene shows Atwater repeating those words to himself, a moment that Hawkins says circles back to his character's speech about empathy earlier in the episode.
"That was really my approach [to the scene]," the actor says. "You know, Johnny was just trying to help. In a moment where everything went wrong. And so was [Kevin], so for those to be the beginnings of those last words, I think it made perfect sense for the last scene."
And even though the writers thrust him into a situation that almost cost him his position on the Investigative Unit, Hawkins says Atwater was "the perfect person" for this storyline.
"Parents are parents and kids are kids no matter what color they are. No matter where they come from. A parents' love deserves to be treated with empathy and respect," he says. "Every empathetic bone is tested in Kevin's body, and we see what happens when light and love is able to prevail."
He continues, "It's a very human experience to lose a child. It's a very human experience to be manipulated and impressionable enough to think that you can save somebody or help a friend. I think 'Sympathetic Reflex' is just a great reflection on human nature.'"
Watch Chicago P.D. on NBC Wednesdays at 10/9c and next day on Peacock.