NBC Insider Exclusive
Create a free profile to get unlimited access to exclusive show news, updates, and more!
Sign Up For Free to View
Jesse Lee Soffer Finally Reveals Why He Left Chicago P.D.
Soffer, who played Halstead for 10 seasons, opens up about exiting the One Chicago franchise.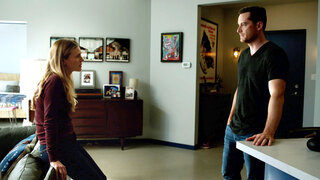 In one of the most heartbreaking episodes of Chicago P.D. yet, there was a major change to the Intelligence Unit as a longtime officer officially resigned. After gracing our screens since Season 1, Det. Jay Halstead (Jesse Lee Soffer) left Chicago and his wife, Hailey Upton (Tracy Spiridakos), cementing Soffer's previously-announced exit from the series. 
So, why did Soffer leave the show after 10 seasons? Though the actor long kept quiet about his specific reason for exiting the show, he finally opened up to Variety in February 2023 about his departure.
He revealed he made the decision at the end of Season 9. "I've thought so hard about how to answer this question—and there's no good answer," Soffer said. "Except I was ready for more."
And what about his on-screen counterpart, Halstead, who exited the Intelligence Unit in Season 10, Episode 3? We have all of your answers, below.
Why did Jay Halstead leave Chicago P.D.?
From the beginning of "A Good Man," it was clear that Halstead was still keeping his distance from Upton while off the clock. But they were forced to communicate when they took on a robbery case—which eventually became personal for Halstead. 
Two armed robbers burglarized a pharmacy, stealing a drug used to cook meth. In the mayhem, a civilian and struggling veteran named Lenny was fatally shot while protecting others on the scene. However, as the investigation progressed, it became clear that Lenny was involved with the robbery. In an effort to protect Lenny's memory and his family, Halstead (also a veteran) went "off the books" to find the robbers without reporting Lenny's involvement. Eventually Halstead, Upton, and Voight found the robbers at a meth lab, but it all went left. In a moment of self-defense that went too far, Halstead repeatedly stabbed and killed one of the perps and went into shock. Upton and Voight urged him to get it together so they could come up with a story to avoid trouble.
Visibly shaken up, Halstead almost told Chief O'Neal the truth about the case. Instead, he turned in his badge and resigned. Afterward, he told Upton that he took a job with the army alongside Lenny's former infantrymen and is stationed overseas in Bolivia tasked with tracking down drug cartels. He explained that in the wake of what happened to Upton at the end of Season 8, Anna's death, and Voight's ultimatum at the beginning of Season 10, he's not comfortable with the grey areas that have come with his police work.
"It's black and white, it's good and bad, it's right and wrong, and it's no more of this," he told his wife about his new job. "I need that. I need that back. I fly out today. It's not forever, it's eight months, maybe a little longer. But I swear to you that we're gonna get through this because you're the love of my life, and if I'm yours, then you'll know that you have to let me go."
Showrunner Gwen Sigan explained to NBC Insider that the writers put a lot of care into crafting Halstead's exit.
"We all really wanted to do justice for Halstead's character as best we could—to who he's been for the show— we really wanted to make that decision to leave his own decision. For it to come from him," she says. "It felt important to keep him alive and keep him out in the world trying to do good. The idea of him getting back to who he was gave us that opportunity. The army's always been integral to who he is. I think that time with the rangers shaped him, his morals, his compass, and it was fitting that he'd want to get back to that; to some sort of simplicity and an idea of 'right and wrong.'"
Why did Jesse Lee Soffer leave Chicago P.D.?
In August 2022, Variety reported that Soffer would be exiting the show, with his last episode airing during the 10th season. At the time the 38-year-old issued a statement to the publication.
"I want to thank the incredible fans for their unwavering support during the past 10 years and want to express my deepest gratitude to Dick Wolf and everyone at Wolf Entertainment, Peter Jankowski, Matt Olmstead, Derek Haas, Michael Brandt, Rick Eid, Gwen Sigan, NBC, Universal Television, my fellow castmates and our incredible crew," he said. "To create this hour drama week after week has been a labor of love by everyone who touches the show. I will always be proud of my time as Det. Jay Halstead."
Soffer also tweeted a message for fans: "This is sad but true. Just want all the fans to know how grateful I am. You guys are why we do it! It has been an honor. Love you all."
Later in February 2023, he further opened up to Variety about his exit.
"Eventually, you know the character so well, there's not much that can shift or transform," he said. "I really wanted to grow and expand, and we've only got this one trip. If I signed up again, it would have been for another three years. I would have turned 40 on the show. I thought, 'You know what? It's time to take a risk.'"
He continued, "It was one of the toughest decisions I've ever had to make in my life. Let's be honest: I love the fans of our show so much, and I love my fans. I know that they're still grieving this, and to some degree, I am too."
Will Halstead and Soffer come back to Chicago P.D.?
Sigan told NBC Insider "the door is never closed" when it comes to a Halstead return, and Soffer seems to agree.
"Never say never," he told Variety about coming back to the show. "I feel so bad for the fans that are like, 'Is he going to come back?' 'What's he going to do?' 'What's going on with him and Hailey?'" 
He continued, "I like to think—and I hope the fans think this too—that he's just in another country right now, doing what he does best and making the world a safer place. In a family, sometimes somebody moves away or goes to college somewhere else. I still love it. I still love the fans. And I still love Halstead."
How will Voight be affected by Halstead leaving?
Right before leaving for Bolivia, Halstead confessed to Voight that he saw himself turning into his boss—something that scared him.
"You don't wanna be me," Voight said.
"No, it's worse than that," Halstead answered. "I do. I do wanna be you."
So how will this change in his team impact Voight? Sigan explains that a shift is unavoidable.
"Voight and Jay have become almost a unit the past season. Jay was in a lot of ways his better half, so his absence is going to have an effect on Voight," she tells us. "He's been a bit shut down since Anna's death, and Jay's decision to leave and the reasons he made that decision, sink into Voight. It's the idea of responsibility. That you are responsible for the people in your life, that your decisions effect them.
These ideas have been battering into Voight, have been reinforced for the past season and a half.  It'll have an effect."
And despite their differences, Sigan says Voight and Upton are "tied up together" as the two closest to Jay.
"Hailey and Voight's relationship gets interesting moving forward," she says. "They are both a bit alone and lost in the world right now, and whether or not they want to admit it, there are a lot of unsaid things lying there between them: blame, guilt, anger, tension. The irony is that they are in this together, and they have been for some time.  Hailey's the one that calls him out, Voight's the one that calls her out, they care about each other, and they're both reeling from Halstead leaving."
What does Halstead leaving mean for Upton?
Spiridakos remains on Chicago P.D., which means that Upton will still be a member of the Intelligence Unit—without her husband. And while Halstead left a sliver of hope for their relationship in their last conversation ("...we're gonna get through this because you're the love of my life, and if I'm yours...") it'll be a huge heartbreak for her to overcome as the season progresses.
"Hailey's really going to have to go through it this season," Sigan says. "She's someone that doesn't love dealing with emotion, doesn't love confronting it head on. She's naturally guarded, she wants to be strong, and she also wants to be strong for Jay too. He asked her for this, he said he needed it, and she loves him." 
She continued, "But, the reality is, she's been left behind.  And that's gutting.  We'll see her deal with it by first seeking distraction—diving into work, putting all that feeling into the job—and when a case pops off that really gets inside her head, that distraction quickly turns to an obsession.  It's an interesting path for her, fueled by a lot of emotion and denial." 
Watch Chicago P.D. on NBC Wednesdays at 10/9c and next day on Peacock.