NBC Insider Exclusive
Create a free profile to get unlimited access to exclusive show news, updates, and more!
Sign Up For Free to View
Chicago P.D.'s Showrunner Says She Wants These Fan Favorites to Return
Gwen Sigan says "the door is never closed" on the return of these former Intelligence Unit detectives.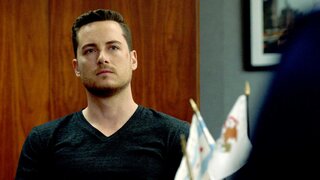 With Chicago P.D.'s milestone 200th episode airing on Wednesday, February 22, we can't help but take a look back at all the amazing characters who have come and gone over the years—and neither can showrunner Gwen Sigan.
When NBC Insider asked her which of the many stand out to her the most, she pointed to a certain late detective who recently made a brief return to the Chicago P.D. universe. "I miss them all," Sigan tells us. "Especially recently, I've really missed writing for Olinsky. You saw us give him a nod this season in 1013."
Of course, she's referring to "The Ghost in You" (Season 10, Episode 13), in which Voight (Jason Beghe) visited the grave of his friend Detective Alvin Olinsky (Elias Koteas), who was killed in the Season 5 finale. 
Keeping his death in mind, it would be pretty difficult to write Olinsky back into the show in a bigger capacity. However, Sigan did point out there are some characters whose stories were left open-ended that she'd love to see return. And that includes Jesse Lee Soffer's Detective Jay Halstead, whose final episode, "A Good Man," aired in October 2022.
Will Jay Halstead ever return to Chicago P.D.?
"Honestly, to me, the door is never closed," she says. "We've got Halstead and Antonio, Rojas, and so many other wonderful actors whose characters' stories are still out there in our world. It would be a privilege to have them come back."
So what, exactly, happened to these characters—and what happened when we last saw them? Read on to find out.
What happened to Jay Halstead on Chicago P.D.?
This is encouraging news for One Chicago fans. Many will remember the most recent development in Halstead's story was during Season 10, Episode 12's "I Can Let You Go," when Upton found out he extended his tour in Bolivia without telling her. This seemed to cement the end of Upstead, but thanks to Sigan, we now have a little hope.
As for Soffer, to the delight of his former co-stars, he most recently returned to the Chicago P.D. set to direct the upcoming Season 10, Episode 16. "Back at it. Just different," Soffer said in an Instagram caption.
What happened to Detective Antonio Dawson?
Detective Antonio Dawson (Jon Seda) last appeared in Season 6 after a battle with painkiller addiction that sent him to Puerto Rico for recovery. Seda currently stars in NBC's adventure series La Brea, but in November 2022 he joked with fans on Twitter about a possible return to the Intelligence Unit.
"Maybe there's a portal that leads to Chicago?" he teased, in reference to La Brea's time-traveling hijinks. 
Where did Rojas go on Chicago P.D.?
Finally, there's Rojas (Lisseth Chavez), the undercover cop who won fans over throughout Season 7. But despite being apart of an ongoing case at the time, her character was not mentioned again once Season 8 premiered.
"It's always hard to say goodbye to a character," then-showrunner Rick Eid told TV Line in November 2020. "We tried to address it in the premiere, but it felt forced. In other words, we're still working on it."
Well, with Sigan's words in mind, we'll be keeping our fingers crossed for an epic on-screen reunion for the Intelligence Unit.
Watch Chicago P.D. on NBC Wednesdays at 10/9c and next day on Peacock